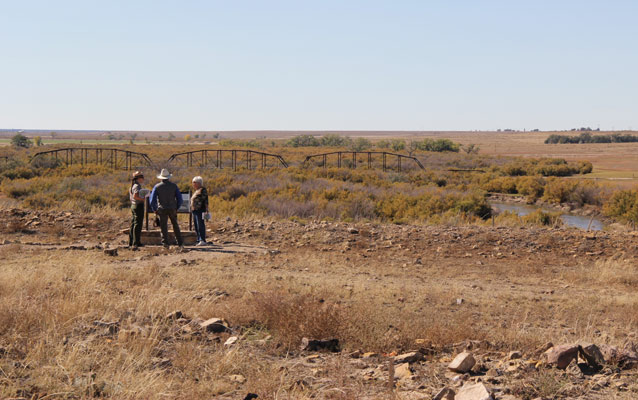 NPS
Quick Facts
GETTING READY FOR 2016:

Action Item:

Fill in the Blanks

Also Promotes:

History Lesson

State:

Colorado

Year Accomplished:

2013
On October 19th, 2013, over 100 guests attended the dedication of Bent's New Fort, about eight miles west of Lamar, Colorado. The dedication included five new exhibits and a trail brushed by the Colorado Youth Summit and the Boy Scouts of America. 
National Trails Intermountain Region partnered with Bent's Old Fort National Historic Site staff, the Santa Fe Trail Association, and the private property owner to open this important Santa Fe National Historic Trail site to the public. 
Three years ago the property owners, the Semmens and McCall families, decided to make the site an archeological preserve. Since then, three archeological studies have connected the stories to the land, which visitors can appreciate through the trail and exhibits. The archeological research also helped ensure that the site could be developed without harming the fort ruins. 
Bent's New Fort links the continuous story of southeastern Colorado—from the development of the Santa Fe Trail, to the occupation of Bent's Old Fort, to the construction of Fort Wise, to the disintegration of human relationships following the massacre at Sand Creek in 1864. At this location, the story of Charles and William Bent's trading empire ends. It is also a beginning point for the Sand Creek massacre story. Today, thanks to the Semmens' efforts, visitors to Bent's Old Fort NHS and Sand Creek Massacre NHS can now also visit Bent's New Fort to fill in the gaps in the story.