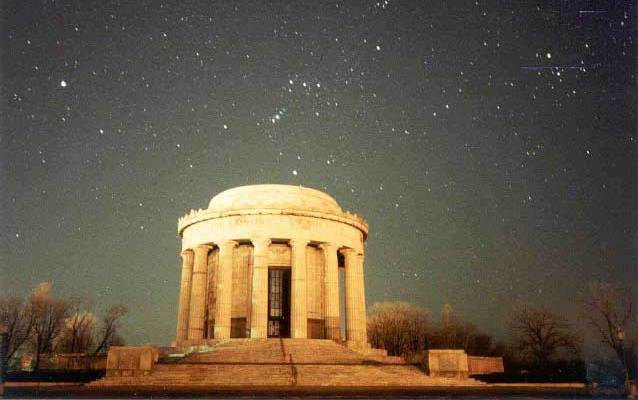 Sam Sievers
Quick Facts
GETTING READY FOR 2016:

Action Item:

Starry, Starry Night

Year Accomplished:

2013
Staff and volunteers of the George Rogers Clark National Historic Park conducted their first evening Junior Ranger event, "Astronomy Night" on Sat. Sept. 22. This local program coincided with International Observe the Moon Night, a night that saw people worldwide viewing the majesty of the moon. The park's program served as the capstone of a successful 2012 series of monthly Junior Ranger events. The event involved 35 children and a similar number of adults who experienced the wonders of the night sky through hands-on activities. The program's goal was to show youth what can be learned from the night sky and how the night sky affects them.
The park's Astronomy Night program celebrated the beauty and importance of the dark sky by turning off all lights throughout the park. This provided an unimpaired view of the first quarter moon. Additionally, this may have represented the first opportunity for youth, from the urban area of Vincennes, to view, without immediate light pollution, the stars and the moon. The sky that night did not disappoint. Many of these youth never had used a telescope, and park volunteers provided three telescopes for the kids to experience up close the wonders of the moon. Additionally, another park volunteer provided an amateur radio to show that in an age of endless technological possibilities, people still can talk to one another all over the world by using a simple ham radio. Other activities included the construction of practical tools to view the sky, so the kids can use, at home, what they learned at the park. Furthermore, participants learned how historical events have been shaped by celestial activities, such as the solar eclipse viewed by Col. George Rogers Clark before he began his successful campaign into the Old Northwest Territory during the summer of 1778. Also, park officials swore in 35 Night Sky Junior Rangers who completed the "Night Explorer" Junior Ranger booklet.
The event concluded with a practical lesson for viewing evening objects. Participants took the lessons learned and viewed a Chinese satellite passing over the Clark Memorial on the park grounds. This program will continue in the future to help visitors see the unpolluted sky as a valuable resource that needs their protection.