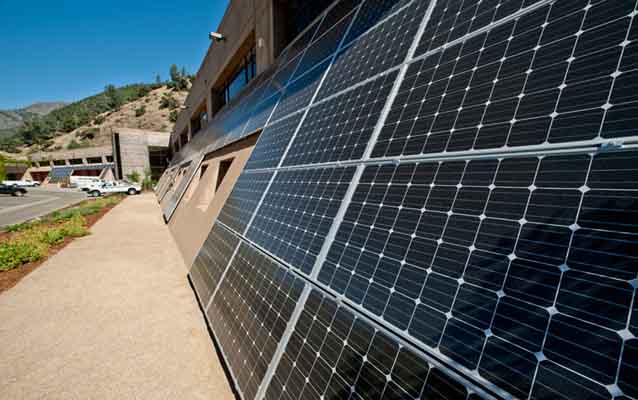 NPS Photo, courtesy of Al Golub Photography
Quick Facts
GETTING READY FOR 2016:

Action Item:

Go Green

State:

California

Year Accomplished:

2012
Like most parks these days, Yosemite is working hard to integrate energy efficient practices into their operations. From publishing sustainability newsletters, to installing the largest photovoltaic project within he Pacific West Region, to DNC Parks & Resorts at Yosemite remodeling the Village Store - Yosemite is raising the bar while reducing their impact. And most importantly, Yosemite is making it a priority to share their work with others!

Yosemite Sustainability Quarterly 
This publication highlights best practices, showcases relevant projects, and catalogs the park's "green" accomplishments. Readers learn about opportunities to engage in mass transit, recycling, reducing light pollution, among others.
The Photovoltaic System at the El Portal Complex
This project is the largest NPS-managed photovoltaic project within Pacific West Region and the largest grid-connected photovoltaic system owned and operated by the NPS. The 672 kilowatt (KW) system consists of 2,800 solar panels and produces approximately 800,000 kilowatt hours (KWh) per year. The park estimates saving approximately $50,000 per year on electricity purchased off the grid and is expecting to receive a $700,000 energy rebate from Pacific Gas & Electric Co. (PG&E) over the next five years. This represents an approximate 12 percent reduction in electricity purchased off the grid.
DNC Parks & Resorts at Yosemite - Village Store Remodel
The park concessioner recently completed a $1.15 million dollar remodel of the Village Store in Yosemite Valley. The remodeled store, which achieved an impressive 25 percent energy use reduction, offers visitors a green and healthy park shopping experience through the store's sustainable design features, locally grown produce featuring organic fruits and vegetables and improved product selection. The remodel included:
Energy efficient refrigeration was installed - equivalent of removing 8-10 vehicles off the road annually.
New Marmoleum flooring made with 97% natural raw materials, 70% of which are rapidly renewable.
Produce moved to front to promote healthier options to visitors.
Upgraded store ventilation system with R-19 batt insulation to reduce the need for heat and cool air.
Previous displays from remodel re-purposed in Curry Village and Yosemite Lodge.
Reclaimed lighting from the store was re-purposed in the backroom areas.