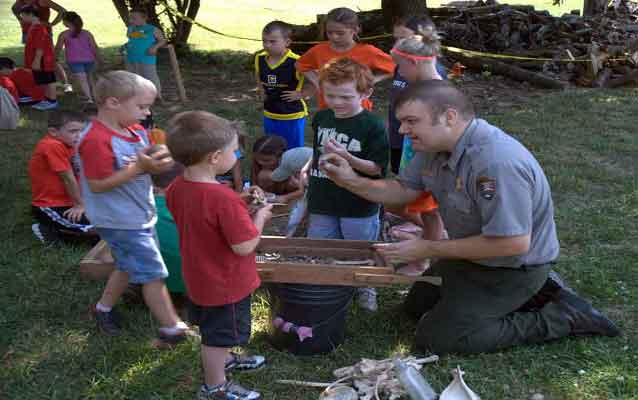 George Rogers Clark NHP
Quick Facts
GETTING READY FOR 2016:

Action Item:

Live and Learn

Year Accomplished:

2013
The George Rogers Clark NHP and the Knox County Public Library worked together on an innovative program during the summer of 2012. The summer reading program encourages kids to read during their summer vacation through reading sessions at the library, art projects, and other activities, with this years theme of parks. A weekly activity was planned by park staff. A total of six events were held at several locations including GERO, the library, and at park partner sites as a part of this program. Attendance exceeded even the most liberal estimates, with an average of 100-200 kids at each event.
Planning began in January, with programs developed on topics such as: "Being a Ranger," "Archaeology," "Visit the Grand Canyon," and The Web of Life." The program included a variety of hands-on activities including: trying on elements of the ranger uniform, performing a mock archaeological dig, and going on a scavenger hunt which led participants through the evolution and development of what is now park grounds. Ultimately participants gained a better understanding of their national parks, especially about GERO.
The library has held summer reading programs for years, but at the conclusion of this year's program library staff informed the park staff that 2012 was their most successful summer. Through this program, many local residents were introduced to a resource which they may otherwise not have visited this summer. The park staff and library staff already are speaking about future projects together.