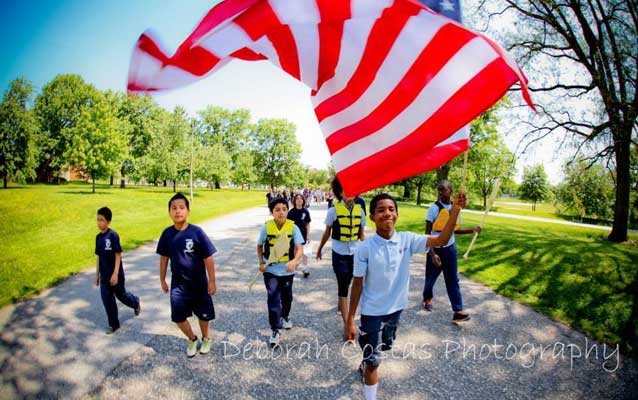 Deborah Costas
Quick Facts
GETTING READY FOR 2016:

Action Item:

In My Back Yard

Also Promotes:

Live and Learn

Year Accomplished:

2013
In the 2012-2013 school year, the NPS and the Star-Spangled Banner National Historic Trail piloted a new Trail Stewards Program to encourage schools, trail sites and organizations, communities and individuals to connect with the history and culture of the Chesapeake Bay region in their own backyards, and to help others make meaningful connections, too. 
The inaugural pilot project engaged Baltimore City 5th graders in creative, place-based learning projects that serve their peers and inspire a connection with the trail's places and stories.
Throughout 2012-2013, all 5th graders at Patterson Park Public Charter School learned about the War of 1812 in their backyards. Patterson Park, across the street from the school, was known as Hampstead Hill during the War of 1812, and was the site of a successful defense of the city of Baltimore in 1814 from invasion by British troops on land. In December, Chief Ranger Vince Vaise of Fort McHenry National Monument and Historic Shrine led the children on a tour of Hampstead Hill, including a running charge up the remnant earthworks. In January, the 5th graders visited the Maryland Historical Society and examined primary source documents related to the defense, including letters written by citizen-soldiers who were fortifying the defensive earthworks.
In March, Star-Spangled Banner Trail staff and teacher Ryan Kaiser led 57 students in an engaging session to design interpretive signage. Using examples of actual trail signage, plus materials such as quotes, images, maps, and a template, students developed their own designs for Patterson Park signage. The 5th graders selected the three best designs to show off at History Field Day at Hampstead Hill in May, an event organized by the Baltimore National Heritage Area. Next May, the student-designed signage will be installed at the park.


In the 2013-2014 school year, this pilot project expanded to involve ten schools in Baltimore.