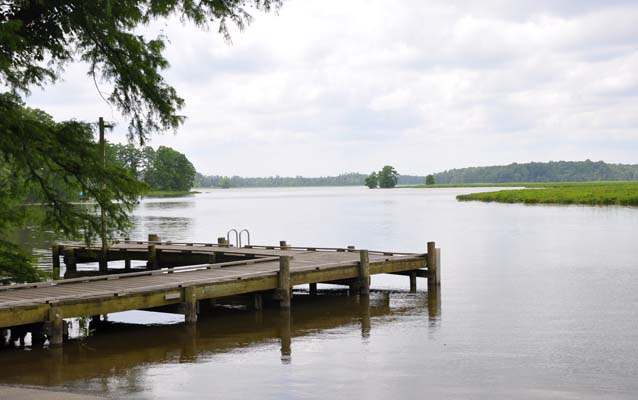 NPS
Quick Facts
GETTING READY FOR 2016:

Action Item:

Follow the Flow

Also Promotes:

History Lesson

Year Accomplished:

2013
Making the John Smith Trail Visible and Visitor Ready on the James River Segment
The Captain John Smith Chesapeake National Historic Trail commemorates the voyages of Captain John Smith and his crew as they explored the Chesapeake Bay between 1607 and 1609. The explorers departed from and returned to Jamestown, Virginia, the first permanent English settlement in the present-day United States. The more than 2,000‐mile trail was designated in 2006 and became America's first national water trail. The trail traces Smith's routes and the key rivers linked to them, helping visitors imagine the world he encountered more than four hundred years ago. The trail is a touchstone for the nation's past, but also a means to experience the Chesapeake's natural beauty and to learn from American Indians who continue to live in the region today.
The trail's comprehensive management plan determined that the trail can best be developed and managed in smaller segments, given the 2,100-mile scope and diverse resources. The segment planning approach helps NPS effectively understand the local resources, opportunities, and partner capacities in each segment. Trail planning along river segments calls for collaborative actions among partners to mark the trail, expand access to the water, and develop visitor opportunities and services.
The James River segment was the first stretch of the John Smith Trail to undergo segment planning. The National Park Service worked with the James River Association, Chesapeake Conservancy, the U.S. Fish and Wildlife Service, and the Commonwealth of Virginia from the river's fall line at the state capital in Richmond, to the mouth of the James at Fort Monroe National Monument. In January, 2012, the James River Segment Plan was published and partners began to work together on a series of proposed actions in the plan.
Since then, local partners have accomplished many of these proposed actions. Examples include:
·         Installation of a new canoe/kayak launch at Chapel Island in Richmond
·         A private outfitter, Discover the James, offers pontoon boat tours from Henricus Historical Park
·         Visitors can rent bikes and kayaks at Eco Discovery Park, Jamestown Marina
·         Multiple kiosks and wayside panels are installed along the trail
·         Installation of a new boat launch at Lawrence Lewis, Jr. Park
In December, 2013, NPS published the report, "Progress on the James River", detailing the many proposed actions which have been completed in the past two years and the key accomplishments in implementing the original plan. Accomplishments include marking the trail with interpretive kiosks and wayside panels, installing new boat launches, developing interpretive programming, and teacher professional development opportunities. Plus, NPS Chesapeake Youth Corps participants in the Commonwealth of Virginia worked with multiple partners at state parks along the trail. All of these actions have gone a long way to truly make the John Smith Trail "real" along the James River.
See the report here:  https://www.nps.gov/cajo/parkmgmt/planning.htm