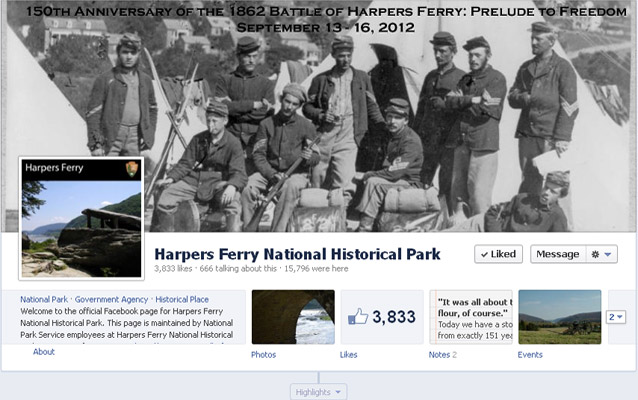 Quick Facts
GETTING READY FOR 2016:

Action Item:

Go Digital

Year Accomplished:

2012
In 2011, Harpers Ferry National Historical Park established a social media team to meet the need of a growing virtual audience.  The social media team is comprised of park staff from multiple divisions of the park who gather as a team monthly to discuss new ideas and further the park's footprint in the virtual world.
The team initially met with the NPS director of new and social media to draft a social media policy for Harpers Ferry NHP. The team's goal was to establish guidelines for using social media as a tool for interpreting park stories, communicating park news, and reaching new visitors who may never even visit the park.
By 2012, Harpers Ferry's social media team is overseeing an active Facebook page, re-strategizing the park's Twitter feed, is developing a plan for Flickr, and is utilizing YouTube for sharing youth-created interpretive videos. The park's website is also being reorganized and will be launching new content in the upcoming year.