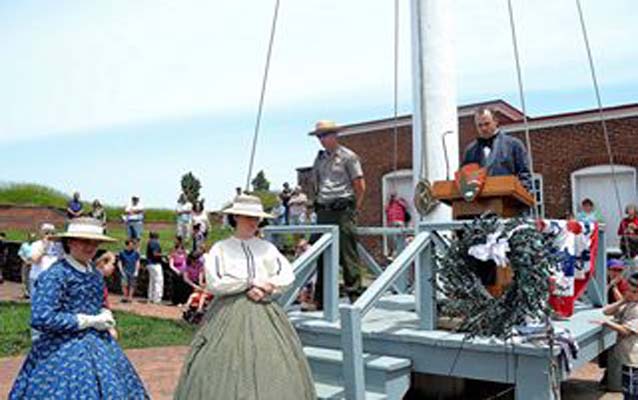 National Park Service
Quick Facts
GETTING READY FOR 2016:

Action Item:

Next Generation Stewards

Also Promotes:

In My Back Yard

Year Accomplished:

2013
On May 27, 2013, Fort McHenry Rangers teamed up with 29th Army Division veterans from World War II as well as veterans from the Korean Conflict and Vietnam War for a 30-minute Memorial Day service at the Loudon Park National Cemetery involving music, musket salute, and wreath-laying.  The National Cemetery, which contains the graves of thousands of Union soldiers, including hundreds of U.S. Colored Troops and four Medal of Honor recipients, was once the center of Memorial Day events in Baltimore.
The commemoration continued at the historic Star Fort at Fort McHenry, where at 9:30 a.m. the flag was raised to half-staff and Rangers gave a special talk on the origin of Memorial Day.  Through the morning a large audience of visitors listened to special readings of popular Memorial Day poems such as "Bivouac of the Dead" and "Flanders' Fields," followed by a discussion of Memorial Day traditions.  At noon the flag in the Star Fort was changed from half-staff to full-staff using a 30 x 42-foot replica of the Star-Spangled Banner.  This was accompanied by a brief presentation on the origin of Memorial Day, followed by wreath-laying.  In the afternoon, Rangers provided a brief recreation of the 1880 Memorial Day observance, including reading of the speech delivered at the Fort McHenry cemetery at that time and the recitation of the Oliver Wendell Holmes' Memorial Day speech. The commemoration was concluded at 3:00 p.m. with the playing of "Taps" and a wreath-laying ceremony as part of the National Moment of Remembrance.
The concept of a Memorial Day to honor the fallen began shortly after the Civil War.  General John Logan, national commander of the Union veteran group the Grand Army of the Republic, officially proclaimed Decoration Day May 5, 1868.  Late May was chosen in consideration that the Civil War ended that month and because flowers to decorate graves were plentiful at that time of year.  The event was first observed on May 30, 1868, and that year over 200 cities and towns held ceremonies and parades to cemeteries.  A year later, nearly 350 towns had celebrations, and by the 1880s the holiday was commemorated in nearly every city and small town throughout the north.  In 1882 the name Decoration Day was changed to Memorial Day as commemorations expanded beyond the laying of flowers over soldiers' graves.
More recently, the National Moment of Remembrance was established by Congress on December 28, 2000 to honor Americans who died in service to the nation.  Through partnerships with local communities, private businesses, and government at all levels, the National Moment of Remembrance Commission encourages all Americans to celebrate Memorial Day as a sacred and noble holiday that honors fellow Americans who paid the ultimate price for freedom.