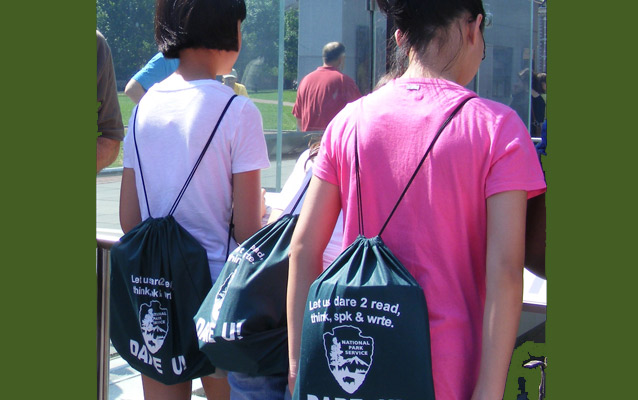 nps
Quick Facts
GETTING READY FOR 2016:

Action Item:

Live and Learn

Also Promotes:

A Class Act

Year Accomplished:

2012
From July 16 through 27, 2012, middle and high school students gathered in one of Independence National Historical Park's interactive classrooms for a two-week writing enrichment program called Project Write.   The program, which partnered Independence NHP with the Philadelphia Writing Project, created an environment where students could learn about the cultural resources preserved at Independence NHP and use that knowledge to expand and develop their formal and creative writing skills.
Students used the historical resources of Independence NHP as inspiration for creative writing opportunities. Visits to sites such as Independence Hall, the Franklin Court Printing Office, and the Bishop White House provided material for poems, political cartoons and newspaper articles. Students examined and analyzed our nation's founding documents - the Declaration of Independence, the Constitution - and reflected on their experience through journal entries and blogs. Samples of the students' writing are available on their blog, https://www.nps.gov/inde/blogs/Project-Write-blog.htm
The program provided multiple ways for these students to learn what the resources at Independence NHP reveal about the nation's history and issues central to our civic life. The park plans to continue the program and extend new opportunities to other students in the area. The program is anticipated to become an expanded youth initiative within the Northeast Region.