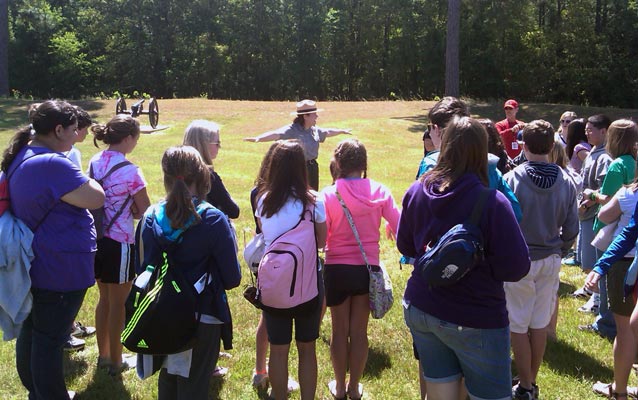 NPS/Eric Leonard
Quick Facts
GETTING READY FOR 2016:

Action Item:

Live and Learn

Also Promotes:

Out With the Old

State:

Georgia

Year Accomplished:

2013
Roughly 20% to 30% of Andersonville's annual visitation is by organized school groups, in the fall and spring months. In recent years, the site is attracting more and bigger school groups from larger schools systems as far away as North Georgia, Florida and the Atlanta Metro area, with a decrease in visits from local schools. Much of the education program at Andersonville, in terms of activities, handouts, and teacher resources were ten to thirty years old. With the assistance of 2011 Teacher-Ranger-Teacher Chris Barr, a series of on-site and classroom materials were developed and used for the first time in the 2011-12 school year. Park staff, working with the Georgia Council for History Education and National Archives staff also held a teacher workshop for the first time.
All of the new programs and resources utilize current scholarship and meet the Georgia Performance Standards and the Common Core. A new reservation system was developed to meet the need to teachers and balance staffing levels and committments. New classroom activities provide new approaches to the story of the the prison through historic photographs and economic activities. In conjunction with the park's Historic Interpreter Apprentice Program, we continue to build a stronger relationship with a local school district.
In 2013, in partnership with the American Red Cross, the park completed a mock trial lesson plan which explores the military trial of Captain Henry Wirz for violations of the laws of war. Additional lesson plans are being prepared for the upcoming 150th anniversary of the prison in 2014-2015.