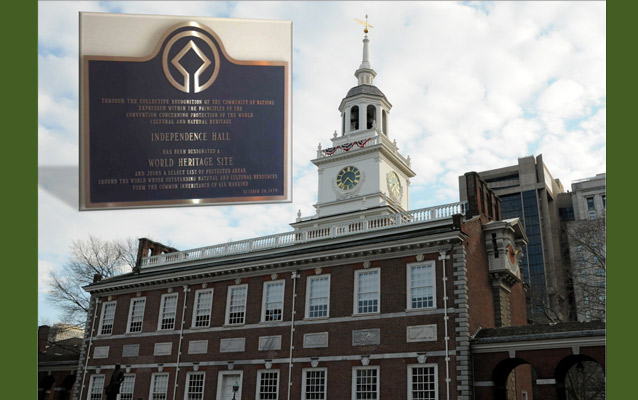 nps
Quick Facts
GETTING READY FOR 2016:

Action Item:

Value Added

Also Promotes:

What's Old is New

Year Accomplished:

2012
Congress Hall, adjacent to Independence Hall, a World Heritage Site, hosted a 40th anniversary event of the United Nations Education, Scientific and Cultural Organization's (UNESCO) World Heritage Convention.  The World Heritage Convention is an international treaty that seeks to recognize and protect the world's most significant places.  Secretary of the Interior Ken Salazar joined UNESCO Director General Irina Bokova in the town hall event with local tourism and business leaders as well as visitors to the park.
The event highlighted the power of Independence National Historical Park, home to one of only 21 World Heritage Sites in the United States, to draw visitors from around the nation and around the world. Secretary Salazar emphasized the importance of international tourism to economic growth and job creation. As part of the discussion, a three-minute film was presented by the National Park Service highlighting World Heritage sites in the United States and around the world.
While many Americans are not aware of World Heritage Sites, people in foreign countries are and often make their travel and vacation plans around visits to them.   In an effort to raise visibility and encourage visitation by Americans, the National Park Service, in partnership with the U.S. National Commission for UNESCO and HISTORY channel, launched a national YouTube video challenge asking people to submit their thoughts on why U.S. World Heritage sites are important to the world.  Selected video submissions will air on HISTORY channel in early 2013. The program was one step in helping develop awareness among the American public of the many ways national parks contribute to the economic vitality of our nation.  Programs such as this support NPS efforts to sustain or rebuild the economic vitality of urban communities through historic preservation.