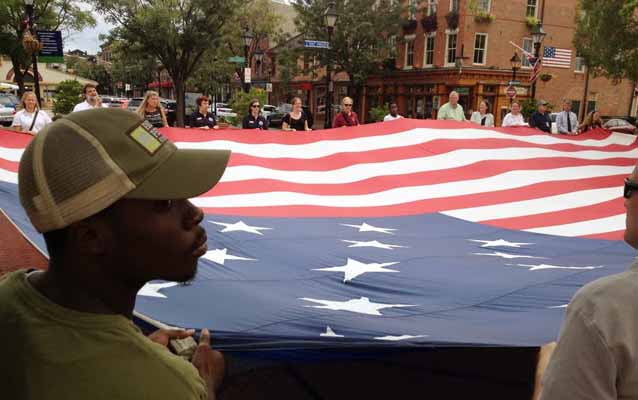 NPS
Quick Facts
GETTING READY FOR 2016:

Action Item:

Parks for People

Also Promotes:

In My Back Yard

Year Accomplished:

2013
In summer, 2012, NPS partner Parks & People Foundation employed a team of five youth for maintenance projects in Baltimore, MD, along the Star-Spangled Banner National Historic Trail. These "Youth Ambassadors" cleared trash from community parks, removed invasive plants, and performed landscaping tasks. In addition to work projects, a significant focus was placed on education - the history and heritage of Baltimore City including its role in the War of 1812 in the Chesapeake, as well as job skills such as resume writing, and environmental skills like tree identification.
The Parks & People Foundation and the National Park Service Chesapeake Bay Office understand too the benefit of adding outdoor recreation experiences to the agenda for Youth Ambassadors.  Each youth participant used Baltimore's natural resources to enjoy tree climbing, bicycling, sailing, and kayaking. A two-day camping expedition to the Upper Bay gave the youth an additional perspective on sites along the Star-Spangled Banner Trail.
The youth visited Baltimore sites along the trail including Fort McHenry National Monument and Historic Shrine, the Flag House where Mary Pickersgill sewed the garrison flag, and the Fell's Point neighborhood where many early 19th century privateers were built and merchants, captains, and seamen lived.  On July 30th, at the launch of the trail in Fell's Point, the youth ambassadors attended and participated in the flag ceremony.
In the federal Strategy for Protecting and Restoring the Chesapeake Bay Watershed, the NPS Chesapeake Bay Office made a commitment to the development of Chesapeake Conservation Corps workforces, particularly of youth.  The Parks & People Foundation is a key partner in the development of a Chesapeake Youth Corps network and strategy and has recently received additional funding from NPS for a youth intern to support the training program along the Star-Spangled Banner National Historic Trail.