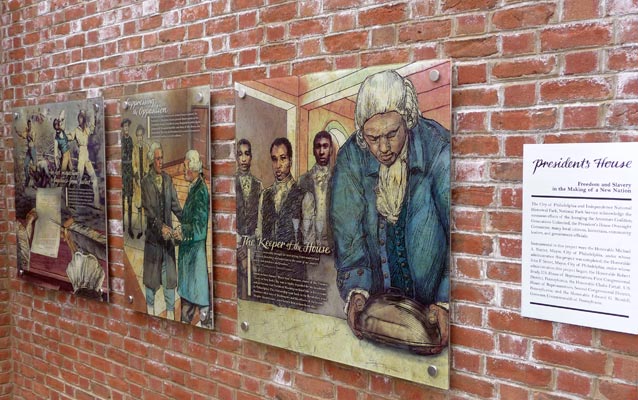 NPS
Quick Facts
GETTING READY FOR 2016:

Action Item:

History Lesson

Also Promotes:

Value Diversity

Year Accomplished:

2012

Over one hundred scholars, students and museum professionals came together in February, 2012 to participate in the first annual symposium offered through a partnership program of Independence National Historical Park, "American Slavery: Bringing Wider Perspectives to Museum Interpretation." INHP Superintendent noted that the symposium was timely for the 150th commemoration of the Civil War, with the tie in the 225th anniversary of the Constitution that tacitly allowed slavery and led to the Civil War.
When the newest outdoor exhibit at Independence NHP, The President's House Site: Freedom and Slavery in the Making of a New Nation, opened to the public in 2010 it created a space for necessary -- and sometimes difficult -- conversations. Building on the discussion generated by the exhibit, Independence NHP joined the African American Museum in Philadelphia and the Friends of Independence to bring together scholars, members of the community, artists, teachers and managers of other historic sites to prompt new ideas about how slavery has been and can be interpreted at museums.
Participants engaged in vigorous discussions about the ways in which museum professionals can explore and share new discoveries and new perspectives in history to best engage communities.  Two morning panels were followed by a keynote speech by Lonnie G. Bunch III, Director of National Museum of African American History and Culture. The dynamic luncheon speech filled the house and helped make the symposium a memorable event.  The park and partners plan to continue this as an annual event. The 2013 program will extend new opportunities for teachers at the high school and middle school level to participate. These annual symposia will expand the meaning of the park to new audiences, providing an opportunity for communities to learn more about their heritage.