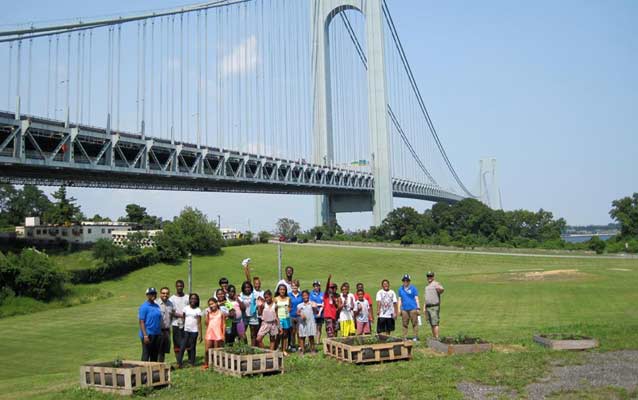 NPS Photo
Quick Facts
GETTING READY FOR 2016:

Action Item:

Parks for People

Also Promotes:

Next Generation Stewards

Year Accomplished:

2014
The 2014 summer ECOLife education program was delivered at Fort Wadsworth for the first time this summer. The team of four SCA interns had 12-week internships. Introductory weeks included program development, collaborating and building relationships with new partners, and outreaching tolocal youth groups and summer camps on Staten Island to draw interest in the program. Through the six week program, which focused on sustainability and systems thinking, the team hosted one-time and repeat group visits from organizations such as the Police Athletic League, Shri Trimurti Bhavan, Green Girls, and NYC Housing Authority (NYCHA). A TickettoRide grant from NPF was used to provide transportation for participantstothe park.
Interns also participated in FOWA Coast Guard Day,Get into Gateway fitness events. The Coast Guard program served 100 people; GIG program reached 308 children ages 3 through 17, for a total of 2,749 visitor hours. 
A new development in ECOlife for this year was the progressing programming for the NYCHA children from three housing projects who returnedtothe park for three days per week over six weeks. Programs focused sustainable themes such as recycling, organic gardening, composting, bicycling, water pollution and marine debris,along with tours and hikes to the fort's historic batteries. 
Partnership with Bike New York allowed the children opportunities to learn and practice bike riding, with GrowNYC to recycle properly, and with the SIU Operations staff using goats as alternative to power tool use for landscape maintenance.  The six week program culminated with a four hour workshop by Guerilla Haiku Movement - 112 NYCH youth were led in a scavenger hunt during which they wrote haiku verses about the nature and history that they found at Fort Wadsworth.