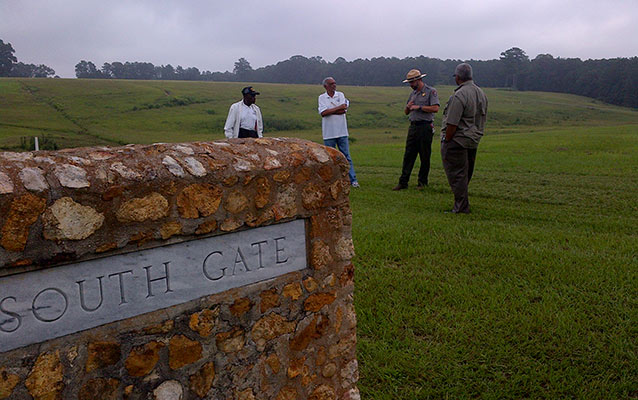 NPS/E. Leonard
Quick Facts
GETTING READY FOR 2016:

Action Item:

Keep the Dream Alive

Also Promotes:

History Lesson

State:

Georgia

Year Accomplished:

2013
Inspired by researching the January 1, 1869 Emancipation Day service at Andersonville National Cemetery, park staff have made significant strides toward better interpreting African American history at the prison site and national cemetery.
African Americans have played an important, but rarely talked about, role throughout the history of Andersonville. The military prison stockade was built by slave labor and African American soldiers were held as prisoners. After the war, Freedmen saw a connection between their own enslavement and the captivity endured by the Union prisoners. These new citizens took the first steps to preserve and memorialize the site.
Despite these efforts, the US army segregated veterans burials in the 1940s and 1950s. But Andersonville received national attention as a place of equality for all Americans, when in May 1966, Jimmy Williams, an African American Green Beret killed in Vietnam, was refused burial in his Alabama hometown. PFC Williams was buried with full military honors in an integrated Andersonville National Cemetery, almost one hundred years after the Freedmen first celebrated their Emancipation only a few yards away.
A site bulletin detailing much of this information was produced, and a new Civil War to Civil Rights tour was added in the national cemetery.  In addition to integrating this story and others into interpretive programs, outreach has included programs with the Albany Civil Rights Institute, Americus Sumter Movement, area historically black colleges and universities, and others.