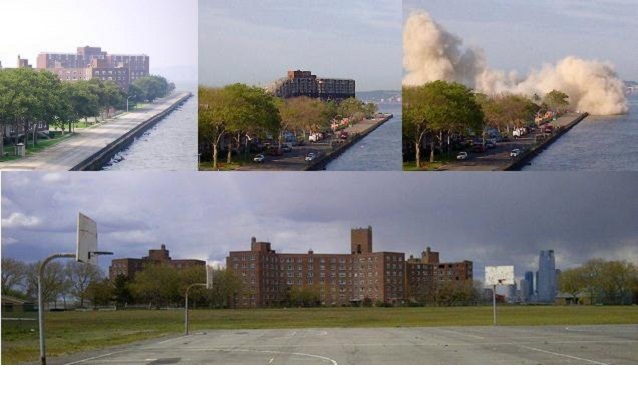 NPS
Quick Facts
GETTING READY FOR 2016:

Action Item:

Go Digital

Also Promotes:

History Lesson

State:

New York

Year Accomplished:

2013
A June 9, 2013 demolition of a modern but obsolete military apartment building by implosion provided a unique opportunity to engage former residents of Governors Island in a time of reminiscing and recollection and allowing the National Park Service to facilitate and listen to their stories.

Governors Island, an island in New York Harbor, was a U.S. Army post from 1794 to 1965. In 1966, the U.S. Coast Guard assumed control of the island, immediately making it the largest base in the world and the manager of a small community of 3000 service personnel and their families. The Coast Guard is unique among the armed services. It is small, with only about 20,000 service members. Most of its mission is on the seas but also on land in small remote stations along inland rivers and seacoasts. More of its service personnel had families and a significant number of those families on Governors Island were multicultural – Asian and Pacific Islanders. Governors Island represented something unique to the Coast Guard in that era and especially to its dependents, a sizeable community with a rare common experience of remoteness and isolation, the stresses of an itenerant military family life with service members on long deployments, and an America not quite comfortable with the the military or concept of multicultural families and children during an era of social unrest in the 1960s.

For Coast Guard brats coming of age on Governors Island from the 1960s until its closing in 1996, it was a rare time in a parent's posting that one could live in a community as large as this with kids that also shared common experiences far different from life in the mainstream of American society.  New York City provided a wonderful connection to the outside world, something a remote lifesaving station or light house in Maine or Cape Hatteras could not do. But Governors Island provided a refuge and safe haven for young friendships and memories to grow strong and deep in the couple of years of a parent's assignment or posting.  For many brats whose parents could identify a hometown, many of them living their young lives in the itinerant fashion of a military dependent, consider Governors Island their hometown, the friendships they made there the closest, and the time they lived there among the best years of their lives.

The demolition of Building 877, Cunningham Apartments (which only 1 in 50 residents might have known) to make way for a new park constructed by the City of New York's Trust for Governors Island was a touchstone moment for many former Coast Guard island residents. Constructed in the 1970s, it thought to be the largest residential structure ever constructed by the service. It and 1960 Army-era low rise family housing units 844, 855 and 866 along with a Burger King, bowling alley, teen center and swimming pool provided a vibrant neighborhood on the island's south side in which these brats called home.

The construction of a new 40 acre park on the south end of the island represents a decade of progress by the Trust for Governors Island in redeveloping a little known 172 acre island in New York Harbor, long off limits to the public with no constituency into a safe and family-friendly destination of open green space with historic buildings on its north end. Open in the summers on weekends for now, the island has become a destination for food, music and cultural festivals, art exhibitions and installations and visitors to Fort Jay and Castle Williams, two fortifications adminstered by the National Park Service which altogether  attract nearly 500,000 visitors in during its 20 weekend season. On some days, Governors Island has more visitors than the Statue of Liberty.

The staff of Governors Island National Monument, with its feet in both worlds of memory and progress, made a point of gaging online reactions and comments of former brats and residents on the several Facebook group pages they maintain. While some saw the event portrayed as a heartless celebration of progress and harsh treatment of places once dear to them, park staff provided factual information through its Facebook page, referrals for more information, firsthand accounts and digital imagery of the demolition in near-real time. As the day continued, we drew upon our archive of pre-demolition photos – taken by seasonal rangers a decade ago, going places they probably shouldn't have, just like the brats did years ago and safely brag about now. We also shared vintage photos from others that provided weeks of vintage photo posting, recollection, online comments and disscussions among the brat community and happily, a few electronic reunions of dear friends long parted.