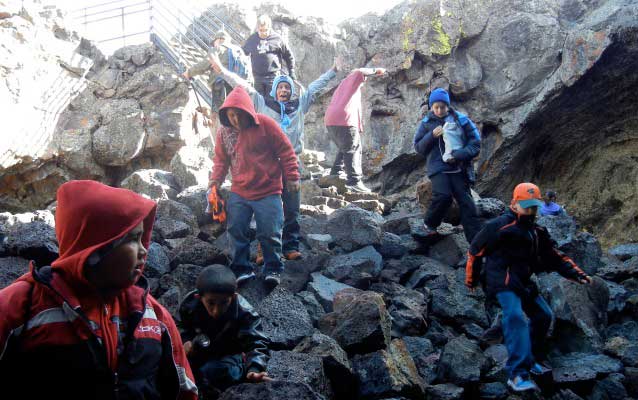 nps
Quick Facts
GETTING READY FOR 2016:

Action Item:

Ticket to Ride

Year Accomplished:

2013
Responding to an overwhelming need for transportation and educational programming funding from parks and schools nationwide, the National Park Foundation, the official charity of America's national parks, created the Ticket To Ride program. The Ticket to Ride program provides financial resources for transportation to national parks across the country.  This year, 12 local schools* received a Ticket to Ride grant which allowed them to bring almost 600 students to Craters of the Moon National Monument.  Nationwide, over $230,000 in Ticket to Ride grants made it possible for more than 30,000 students to experience their local national park this past fall.

During their visit many of these students helped to pilot a new inquiry-based science education program. The new PARK teachers program also received funding from the National Park Foundation and is being developed in partnership with staff and pre-service teachers from the College of Southern Idaho in Twin Falls. Equipped with a variety of scientific instruments, students explored how life survives and thrives in this unearthly environment.

The high school classes followed up this experience with posters that describe how the environmental factors that they measured affect the growth of plants in the lava flows. Students from Summit Elementary School used their imaginations to develop new critters adapted to the harsh lava conditions such as the "rockmunk" and the "flying monkey-mole". Follow-up comments from participating students included this by a local fifth grader:
"Our field trip was the awesomest day of my life.
I believe all kids should go to learn about volcanoes
and explore the caves!"

For many students, the Ticket to Ride field trip was their first visit to a national park.  Recognizing that once in the parks, a world of experiential learning opens up, the National Park Foundation and the National Park Service are dedicated to providing this critical access to the parks. Through these field trips, young people discover their natural, cultural and historical heritage, participate in volunteer and service-learning activities, enjoy recreational opportunities and most importantly, begin a lifelong relationship with their national parks.  

For more information about the Ticket to Ride program, our corporate partners and ways to support this and the other exceptional National Park Foundation programs, go to www.nationalparks.org.