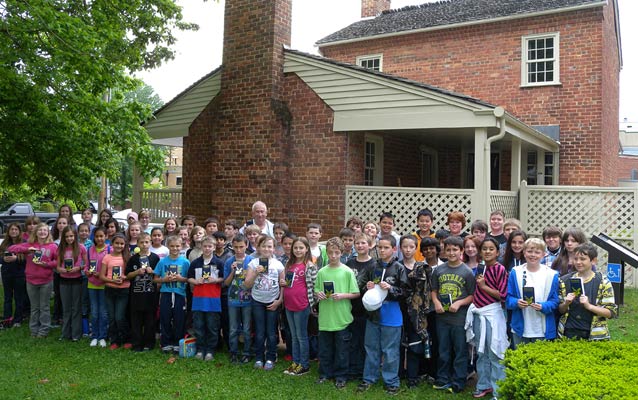 NPS Photo
Quick Facts
GETTING READY FOR 2016:

Action Item:

A Class Act

Also Promotes:

Next Generation Stewards

State:

Tennessee

Year Accomplished:

2013
Great Smoky Mountains National Park has adopted the 5th Grade class at Pi Beta Phi Elementary School in Gatlinburg, TN to participate in a series of experiences culminating in the National Park Service Centennial in 2016 which coincides with their 8th grade graduation.
In May, students visited the home of our Nation's 17th President, Andrew Johnson National Historic Site where Park Rangers led 5th graders on a discovery tour of the historic resources protected by the National Park Service in Greeneville, TN. This opportunity stems from a National Park Service goal to connect people to parks and help students develop a deep understanding of park resources and the relevance of parks in their lives through a series of education programs.
"We were pleased to host this new audience of young learners in Greeneville. Andrew Johnson's life touched the entire nation and all learners can benefit from the resources we preserve," said Andrew Johnson National Historic Site Superintendent Lizzie Watts.
Pi Beta Phi Elementary School has an established partnership with Great Smoky Mountains National Park that has been in existence for over 20 years. Their curriculum includes both teacher-directed and ranger-directed field trips which promote cooperative learning by students and authentic assessment by teachers. The program is comprehensive in scope, providing 3 to 5 units taught in the park for each grade level, enabling students to experience the Smokies on over 40 different occasions if they complete K-8th grade at Pi Beta Phi.
Prior to their visit to Andrew Johnson National Historic Site, Smokies Park Superintendent Dale Ditmanson introduced students to National Park sites across the nation including sites where he had worked. Students were inspired to use these and other National Park Service sites as the subjects for their annual social studies fair projects.
 "We are proud of the commitment Pi Beta Phi staff have made year after year to provide these unique opportunities using the park as an outdoor classroom. I enjoyed introducing the Class of 2016 to National Park sites and look forward to hearing about the special places they will learn about and experience through the program ," said Superintendent Ditmanson.
Students received their personal National Park Passport book at Andrew Johnson National Historic Site and were encouraged to visit other park sites over the summer. By exploring this nearby historic site and focusing on National Park Service sites for social studies projects, students were exposed to the diversity of park sites across the nation. Student projects on the parks included display boards, brochures, and PowerPoint presentations.  The top projects were displayed at Park Headquarters.
For more information about Parks as Classrooms program, please visithttps://www.nps.gov/grsm/forteachers/classrooms/index.htm.