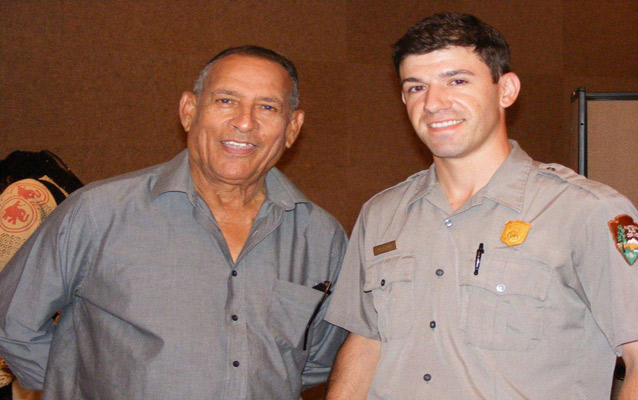 NPS
Quick Facts
GETTING READY FOR 2016:

Action Item:

Stop Talking and Listen

Also Promotes:

History Lesson

Year Accomplished:

2013
Louisiana French refers to the collective dialects spoken in Cajun, Creole, and America Indian communities.  In the context of linguistic preservation, status of the language is not yet technically considered endangered.  However, significant cultural maintenance is necessary to ensure reciprocation to subsequent generations. 
Amidst urban sprawl, gentrification, and tourism-driven encroachment, the situation in Natchitoches Parish is at a crucial crossroads with regard to the propagation of its linguistic heritage.  Although the legacy of its Creole heritage lives on in tourism venues, place names, and traditional cultural activities, reciprocation of the Louisiana French language in Natchitoches Parish is perhaps the most-threatened example in the state.  With this in mind, the park's Cultural Resources Specialist Dustin Fuqua has started to advance his own knowledge, retention, and use of the Louisiana French language as a means to complement its preservation. 
A recipient of a 2012 NPS Albright-Wirth Grant Program award, Dustin Fuqua, a Louisiana Creole from Avoyelles Parish, was able to enhance his Louisiana French skills and abilities by utilizing grant funds to participate in statewide heritage events as well as to acquire linguistics software, literature, and musical resources.   Trained as an anthropologist, Dustin utilized participant observation techniques to learn from and document the linguistic variations of native Louisiana French speakers.   Project work further involved personal communications with francophones from the Acadiana region of the state and traditionally-associated people of Cane River, and an ethnographic interview with a Creole centenarian from Avoyelles Parish.  The award also enabled Dustin to travel to a number of Louisiana French Table meetings, a grassroots movement by which traditional speakers meet regularly to practice their language skills and keep their cultural traditions relevant and alive.                
Dustin is leading an effort to develop La Table Française Aux Natchitoches (The French Table At The Natchitoches) as a means to preserve, retain, and advance use of the Louisiana French language locally.  Aux Natchitoches is evocative of the colonial era French post established "at the Natchitoches" or among the local Natchitoches Indians that in turn founded the earliest permanent European settlement west of the Mississippi River in 1714.  Traditionalists, semi-speakers, students, and heritage enthusiasts alike are invited to attend meetings of La Table Française Aux Natchitoches. 
Natchitoches été trouvé par les français en 1714.
Mais, n'oubliez pas; les indiens étaient icitte les premiers!
Natchitoches was founded by the French in 1714.
But, don't forget; the Indians were here first!