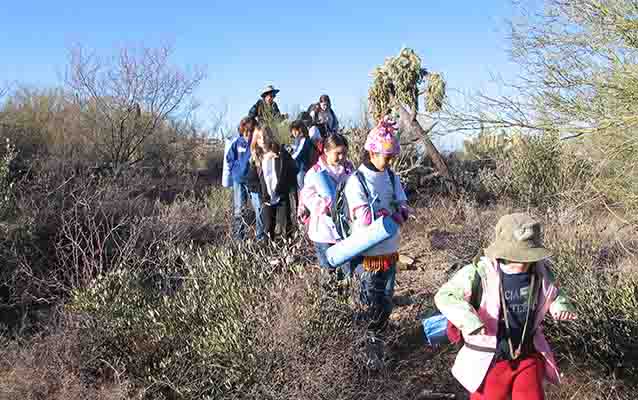 NPS Photo
Quick Facts
GETTING READY FOR 2016:

Action Item:

Ticket to Ride

Also Promotes:

In My Back Yard

State:

Arizona

Year Accomplished:

2013
For many years the park has promoted a strong and diverse Environmental Education and Outreach program with curriculum-based programs being the most abundant. A comfortable and sustainable level of programming was maintained for 10+ years with both the park and the school community enjoying the prosperity of students flourishing in their back yard national park.
Changes in the education community and trends in budget reductions began to reduce the number of programs and students visiting the parks. Schools that had been visiting for years began to deny teachers transportation for field trips due to budget cuts.  Also, recent reviews of who visits and does not visit the park made management aware that the park needed to adjust its audience to reflect Tucson's changing demographics. It was quickly determined that one of the most critical factors was the inability of schools, and other groups, to reach the park due to the lack of transportation.
Beginning in 2009 the park requested that the Friends of Saguaro National Park seek donations for the funding of transportation to the park for schools, after school groups, and other youth-based organizations. That year $3,000.00 was set aside to bring those groups to the park. The park established guidelines that focused on under-served/under-represented schools and provided free transportation to schools who met program requirements. The success was clear and abundantly obvious as all funds set aside for transportation were used that year. In subsequent years, the funding has been increased every year and the number of children visiting the park from under-served/under-represented schools has also increased every year. The Teacher To Ranger To Teacher program also benefitted from the increase in transportation funding and was able to bring dozens of families to the park over the years as well.
It's great to have free, quality educational programs that offer outstanding experiences for today's urban youth however, if they cannot get to the park, then you're missing the opportunity to connect thousands of urban youth to nature and a National Park. It is the hallmark of the park, and well known within the education community, that the park provides free transportation for a large percentage of visiting schools.
As Yolanda Torres, director of an after school youth program from an under-served community, remarked "We are so EXCITED and EXCITED!! Free Program!!! Free Bus!!!"