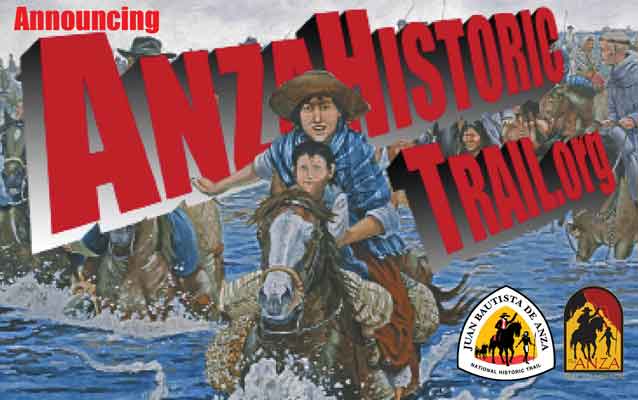 NPS
Quick Facts
GETTING READY FOR 2016:

Action Item:

Go Digital

Also Promotes:

In My Back Yard

Year Accomplished:

2013
The Juan Bautista de Anza National Historic Trail is now open to the next generation of digital explorers through a new online Anza Trail experience: www.AnzaHistoricTrail.org.
The new website, a partnership of the Juan Bautista de Anza National Historic Trail and the Anza Trail Foundation, connects communities with history, culture, and outdoor recreation along the trail's 1,200-mile corridor.
The website's backbone is cutting-edge web-mapping technology developed by the nonprofit GreenInfo Network. Users can tailor the map to create their own Anza Trail experience: 
Zoom to street level to see where the expedition party traveled
Locate local Anza Trail interpretation sites or recreation trailheads  
Follow an animated timeline to read expedition diaries in English and Spanish
Users are also invited to help document and share the Anza Trail story. By launching the site's MapCollaborator tool, they can add and edit information and photos directly on the map.
The Anza Trail officially launched the new site on June 27, 2013, the anniversary of the date in 1776 when the Anza Expedition families completed their journey and arrived to establish a presidio in San Francisco.
The new website will serve as an online portal for the Anza Trail, including the online magazine Noticias de Anza, a new blog, and a list of trail-related events.
It complements and incorporates the trail's other online resources, including: Web de Anza, the University of Oregon's database of primary resources relating to the expedition; the Anza Trail Guide, by Anza Expedition descendant, Greg P. Smestad, Ph.D.; and the National Park Service's administrative site.
The Anza Trail commemorates the 1775-76 Spanish expedition of more than 240 men, women, and children who journeyed across the frontier of New Spain to establish a settlement at San Francisco Bay. Today, the Juan Bautista de Anza National Historic Trail connects history, culture, and outdoor recreation throughout Arizona and California.