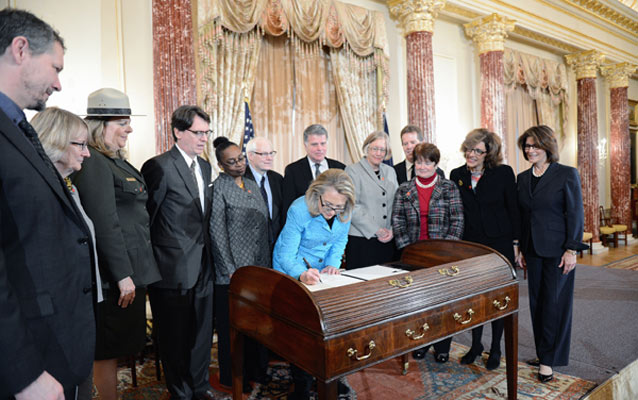 Department of State
Quick Facts
GETTING READY FOR 2016:

Action Item:

Live and Learn

Also Promotes:

Go Digital

Year Accomplished:

2013
 On Wednesday January 31, 2013 Deputy Director Peggy O'Dell joined representatives from government agencies, educational organizations and Secretary of State Hillary Clinton to sign the "Declaration of Learning" on the historic Treaty of Paris desk in the Franklin Room at the Department of State.  Thirteen agencies and organizations formalized their partnership in collaborative learning through signing the document. 
The collaboration centers on creation of a distance learning program based on the concept of diplomacy using resources and expertise contributed by all of the partners.  The historic artifact collection housed in the Department of State Diplomatic Reception Rooms will be featured in the distance learning program.  The goal of the collaboration is to provide teachers, students and other learners the opportunity to explore the collections at the Diplomatic Reception Rooms and see how they connect with other national treasures and historic places preserved and interpreted by the NPS and other partners.
The project helps promote the Director's Call to Action initiatives by promoting the NPS Education Mission.  Action Items addressed through this partnership include #16 Live and Learn and #17 Go Digital.