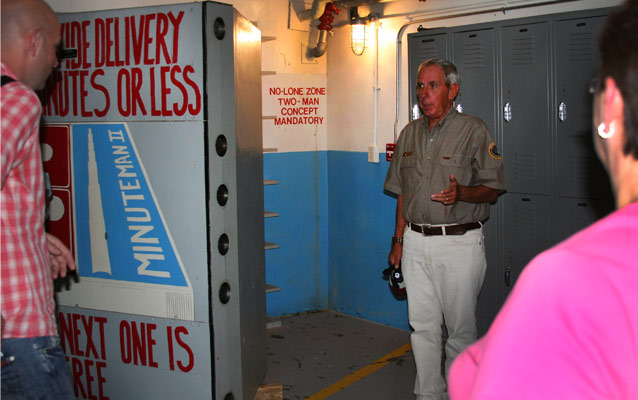 NPS
Quick Facts
GETTING READY FOR 2016:

Action Item:

History Lesson

Year Accomplished:

2014
Minuteman Missile is very fortunate to have volunteers who actively participated in the history we are now interpreting. These men and women served in the United States Air Force during the Cold War, working in, around and with Minuteman nuclear missiles. Fortunately for the park, many of the former personnel retired in the area or still work at nearby Ellsworth Air Force Base today.

Those who now volunteer at the park include missileers who once sat in the underground Launch Control Centers, and flew on Airborne Launch Command Centers, maintenance personnel who worked on the missiles and inspectors who participated in disarmament verification  for the Strategic Arms Reduction Treaty (START).

Minuteman Missile offers a unique opportunity for visitors to interact with these volunteers who are the embodiment of Living History. Through programs such as the "Meet the Missileers" visitors of all ages get to ask questions of the personnel who helped make history as the human element in America's Cold War policy of strategic nuclear deterrence. An added benefit to the park from these volunteers is that they can assist in fact checking historical articles and documentation to ensure that details are correct and the Minuteman story can be told with the highest degree of accuracy.