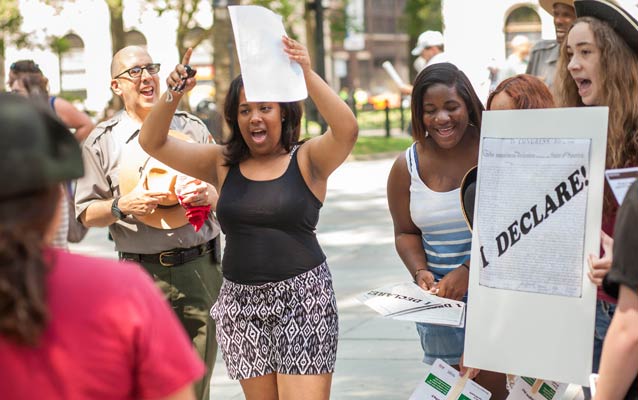 NPS photo
Quick Facts
GETTING READY FOR 2016:

Action Item:

Step by Step

Also Promotes:

History Lesson

State:

Pennsylvania

Year Accomplished:

2013
Philadelphia area students were inspired to write about history in the successful second year of the Project Write program at Independence National Historical Park.
Independence NHP hosted the second Project Write summer camp July 15 – 26, 2013. The theme was "Inspire Me! The Power of Words and Images." In addition to visiting park sites, students participated in a "flash mob" style reading of the Declaration of Independence on July 18 and met with acclaimed author Kekla Magoon on July 26. Interpretive Ranger Renee Albertoli collaborated with the Philadelphia Writing Project on this innovative two-week workshop for local students.
This year's program built on the debut year, in which the students eagerly shared their accomplishments with others through social media and a literary magazine. They engaged in a dialogue with the virtual community through a blog and tweets.  The students also expressed their creativity in videos posted to YouTube and a photo album on Facebook.   
 The program has garnered national attention. National Writing Project Radio interviewed Albertoli about Project Write summer camp for a show called "Living History: Reading, Writing and Learning at National Parks". The hour-long radio show also included interviews with NPS staff and partners at other Project Write sites in the Northeast Region. The show streamed on the internet on April 25 and is now available on demand at: http://www.blogtalkradio.com/nwp_radio/2013/04/25/living-history-reading-writing-and-learningat-natl-parks.
As a result of this summer program, Independence National Historical Park is collaborating with the Philadelphia Writing Project and the School District of Philadelphia on a 10th grade language arts curriculum unit. Albertoli was recognized for her work with the National Park Service's Freeman Tilden Award for interpretive excellence, for the 2012 Project Write workshop.
More information about the camp is available at  www.nps.gov/inde/blogs/Project-Write-2013.htm, on Twitter @ProjectWriteNPS, and on the park's website at: https://www.nps.gov/inde/forkids/teens.htm.