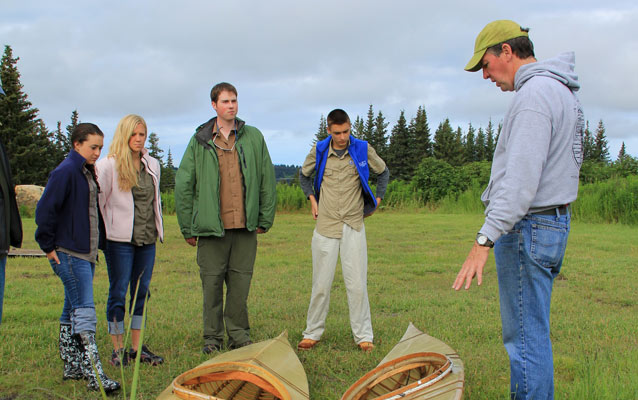 NPS-LRHolzapfel
Quick Facts
GETTING READY FOR 2016:

Action Item:

Follow the Flow

Also Promotes:

Parks for People

Year Accomplished:

2012
Aqua Kids Visit America's Great Outdoors
In Alaska-where economic prosperity, conservation, and a way of life are directly linked-a huge variety of organizations are working together get kids outside and provide meaningful ways for them to engage in conservation. In late July, the cast and crew of "Aqua Kids" (a national TV program focused on conserving aquatic resources) spent two adventure-filled weeks shadowing and showcasing a variety of partners that are working to conserve Alaska's amazing aquatic resources and engage Alaska's youth.
The Aqua Kids television show airs on 140 stations nationwide and reaches 95 million households.  http://www.aquakids.tv/.  The upcoming editions about Alaskan conservation efforts will help share great ideas with other youth on ways to actively engage partners in protecting important water resources and get involved in conservation, as well as exciting adventures in Alaska's great outdoors!
In Homer, Alaska, the Aqua Kids learned about partnerships that protect important water resources.  With support from the Alaska Regions of the National Park Service, the U. S. Fish and Wildlife Service, Alaska State Parks and Lake Clark National Park and Preserve, the Aqua Kids experienced community-led partnerships that can have lasting outdoor recreation and conservation success.  The NPS-Rivers, Trails and Conservation Assistance Program shared the Kachemak Bay Water Trail project, a Department of the Interior, Secretary Salazar's America's Great Outdoors Project.  They met several steering committee members and learned that the communities around the bay are coming together in partnerships to create a 125-mile water trail that inspires exploration, understanding, and stewardship of the natural treasure that is Kachemak Bay.  Their vision is "Adventure Beyond the End of the Road" and demonstrates how a well-planned water trail that protects pristine water can promote proper economic growth and protect the marine environment.  Sustainability, the continued health of the bay, hinges on a diverse group of partners, including agencies, nonprofits, and businesses working together to keep the bay healthy through collaboration, research, innovation, and engaging and educating youth to make sure people continue to be connected to the Bay.
 The Aqua Kids shadowed a variety of people and partners involved in sustaining fisheries, managing wildlife populations, and protecting healthy ecosystems and surrounding waters. They learned about a native youth conservation education program that helps build youth communication skills, knowledge of natural resources and conservation efforts to protect clean waters, and connects youth to their native heritage in the outdoors, by building traditional kayaks and participating in wilderness trips on local marine waters.  They tasted fresh Kachemak Bay oysters and worked a fishing industry "slim-line" to learn about the connection between clean marine water and community economic health. They visited a NOAA research lab and built underwater robots to better understand how fisheries managers can track underwater activities.  They were guests of the Seldovia Tribe and Native Association and learned about local native culture first-hand.  And while traveling on Kachemak Bay they observed rafts of sea otters and seabird rookeries with USFWS biologist.  At the community pot luck, they met the Homer Mayor who played his Ukulele and sang his own songs about his attachments to Kachemak Bay. 
While traveling in Alaska State Parks and Lake Clark National Park and Preserve vessels, they learned about agency involvement in marine conservation, city clean harbor programs, marine mammal and bird research techniques and programs, species recovery, Seldovia Native Village and Tribe's marine based lifestyles, and much more.
Watch for upcoming Aqua Kids shows highlighting these experiences starting in the fall of 2012.