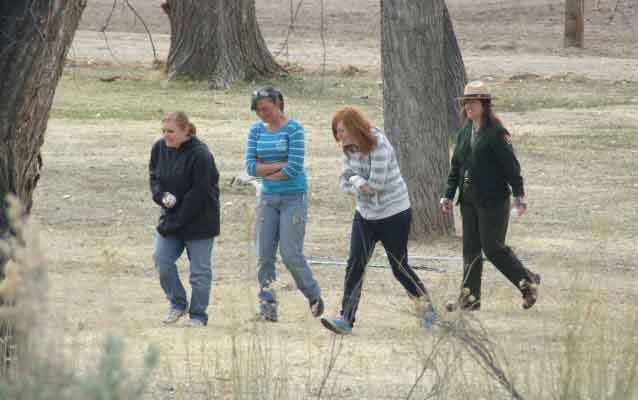 NPS Photo
Quick Facts
GETTING READY FOR 2016:

Action Item:

Live and Learn

Also Promotes:

A Class Act

State:

New Mexico

Year Accomplished:

2013
Aztec Ruins National Monument is helping students in the San Juan County area get a better understanding and appreciation of their local National Park and the people that once lived here. We've developed an active curriculum-based educational outreach program with several interpretive park rangers visiting local classrooms. PowerPoint programs and ranger-led activities in the classroom are meant to peak student interest in the park and in learning about other cultures.
Park rangers have been going to local schools for the past few years. A program about ancient trade incorporates replica artifacts for students to study and exchange. Other talks include comparing cultures in the southwest, pueblo games, archaeoastronomy, ancient musical instruments, ancestral Pueblo farming techniques, dendrochronology, ancestral Pueblo cultural timeline, the Civilian Conservation Corps, and careers in the National Park Service.
During the ancestral Pueblo music talk, the ranger (a professional musician herself) shows photographs of the ancient instruments found at Aztec Ruins, Chaco Canyon, and other prehistoric sites in the southwest. The students are able to try out replicas of instruments such as an ancestral Pueblo flute, a modern Native American flute, a conch shell, a rattle, shell tinklers, a copper bell, and a rasp.
Inspired by Call to Action Goals "A Class Act" and "Live and Learn," the monument has dramatically increased its reach to local classrooms in the last two years. In 2012 rangers visited almost five times more classrooms than they had in 2011, talking to 2670 students in 141 classes. We're off to a good start in 2013 with over 100 classroom visits. 
The park has also has an adopted class of 2016 from Bloomfield High School.  The "adopted" students are in the gifted program, and the park is meeting a school need by providing extra opportunities for this special group. During their freshman school year, the students have taken one field trip to Aztec Ruins and received two classroom ranger visits.