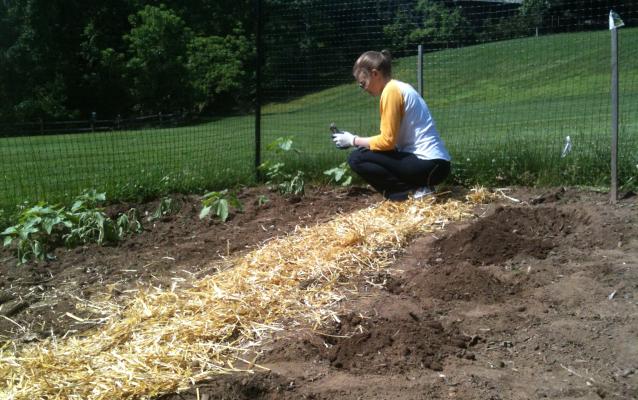 Staff Photo
Quick Facts
GETTING READY FOR 2016:

Action Item:

Eat Well and Prosper

State:

Virginia

Year Accomplished:

2012
Wolf Trap National Park for the Performing Arts was known as Wolf Trap Farm Park for many years. In that spirit the grounds supervisor, staff and volunteers wanted to show how a garden plot would provide fresh produce to be used in food preparation at the Park.
Two areas were tilled to plant a variety of herbs, vegetables and fruits. This was done with a plethora of volunteers, Park staff and partner staff. The plots were strategically located near pathways to highlight their existence and provide learning experiences for all who came past. The largest of the plots was on the path to the Children's Theater in the Woods. Park interns were stationed to work the garden and answer questions the children and others had. This turned out to be a twofold education. The visitors learned about gardening and healthy foods and the interns learned a little more about public engagement.
Harvests were offered to the partner chefs and they were happy to utilize them in food offerings. More was grown than the chefs could use and the excess was given to the local food bank. The volunteers were ecstatic to see what their hard labor had accomplished and that it had been both educational and went to a population in need of healthier food choices.
Wolf Trap National Park for the Performing Arts knows this project will have a positive impact on the community and the environment. By promoting healthy eating, our visitors will reap the benefits. We are confident the outdoor classroom space will educate the public and inspire others to follow our example.