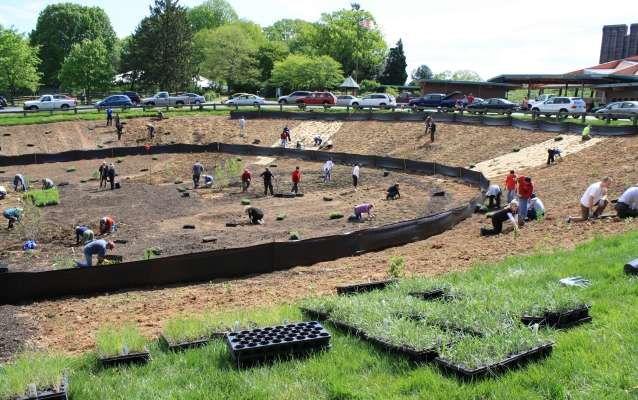 Nate Adams
Quick Facts
GETTING READY FOR 2016:

Action Item:

Next Generation Stewards

Also Promotes:

Go Green

State:

Virginia

Year Accomplished:

2012
For decades, visitors at Wolf Trap National Park for the Performing Arts have driven into the park, admiring the stately beauty of the Filene Center, excited to see great shows and performances. Eager to join the crowds, most people rush straight to the gates. Now, however, many will choose to linger on the grounds before the shows. Recent landscaping and natural resources projects are giving the public more reasons to visit besides wonderful entertainment.
One of these important projects is the transition of the "Dimple Lawn" into a new native meadow. In the past, the one acre area, contained in the large circular traffic loop leading to the Filene Center, was an open lawn. Requiring mowing and maintenance, the Dimple was ecologically unsustainable and aesthetically uninteresting. Lucky for the park, NPS Maintenance Worker Supervisor Phil Goetkin saw potential there. Envisioning a public space that would reduce maintenance, help manage rainwater runoff, provide habitat for insects and animals, provide a more balanced environment and also serve as an outdoor classroom, Phil championed the new project. Supported by park leadership, funds were sought and secured, and work began.
After the ground was prepared by park staff, approximately 40 Wolf Trap National Park and Wolf Trap Foundation employees came together on April 20, 2012, to establish the environmentally friendly native meadow. Truckloads of composted mulch and leaf litter were used to outline newly designed foot trails, and native shrubs were installed. A week later, a combined effort of park employees and 80 volunteers planted nearly 21,000 seedlings throughout the new meadow.
Volunteers have been crucial to the Dimple transformation. Besides the assistance of large numbers of concerned individual citizens, a great deal of work has been done on the native meadow by the Wolf Trap Foundation and during corporate service days. Large groups of volunteers from AMEC Environment and Infrastructure, Price-Waterhouse-Coopers, Marriott, and Camden Properties worked on the meadow, planting, weeding, and helping the seedlings grow and spread. Volunteers continue to contribute to the meadow as "Weed Warriors." Volunteering several hours every third Saturday, they pull out pesky weeds and ensure the health of the plants intended to be there.
Wolf Trap National Park for the Performing Arts knows the native meadow project will have a positive impact on the community and the environment. By promoting native plants, the battle against invasive species will move forward and we will establish a more balanced ecosystem. Also, the outdoor classroom space in the meadow will educate the public and inspire others to follow our example.