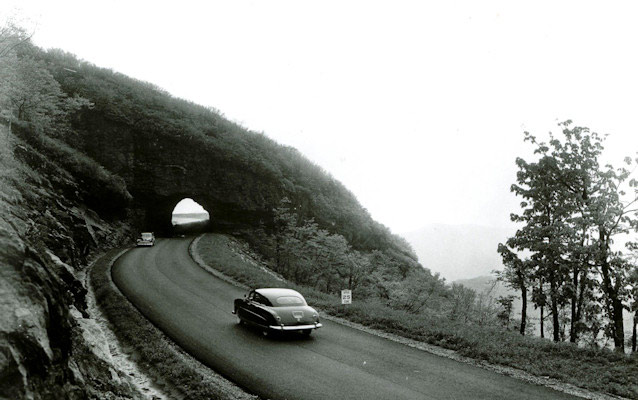 NPS Photo
Quick Facts
GETTING READY FOR 2016:

Action Item:

History Lesson

Also Promotes:

Go Digital

States:

North Carolina, Virginia

Year Accomplished:

2012
Driving Through Time is based partly upon the work of historian Anne Mitchell Whisnant, funded by State Library of North Carolina grant, and was built and is hosted by the UNC Libraries, as part of their long-running digital history initiative, Documenting the American South, developed under the direction of Natasha Smith.
 
The Driving Through Time website includes over 5000 digitized historic photographs, maps, drawings, newspaper articles, oral histories, and other documents pertaining to the Parkway's construction and development.  These items, drawn from the Parkway's own archival collection in Asheville, the collections at the North Carolina State Archives, and the collections at UNC-Chapel Hill, are now available in one place for easy access by the park, the public, parkway neighbors and partners, and Parkway researchers.
 
The site invites users to explore parkway history chronologically, geographically or by dozens of topics from access roads and automobiles to wildlife and workmen. An interactive map feature layers historical maps atop current road maps and satellite images.  The comparisons provide insight into the parkway's development and its impact on pre-parkway towns, farms, roads and topography. In addition, the site offers eleven short interpretive narratives that provide scholarly context for the materials and for the park's history.  It also includes thirteen K-12 lesson plans keyed to the North Carolina state curricular standards and developed in concert with faculty at the UNC School of Education.  UNC graduate and undergraduate students have been heavily involved in project research and content development.  The underlying coding of all included primary source materials according to their geographic location makes it possible to envision the future creation of mobile capability to explore materials related to particular locations while out on the Parkway.
 
While the project is, at present, heavily focused on North Carolina due to the stipulations of the initial grant, expanding the site to incorporate Virginia content has begun in summer, 2012.