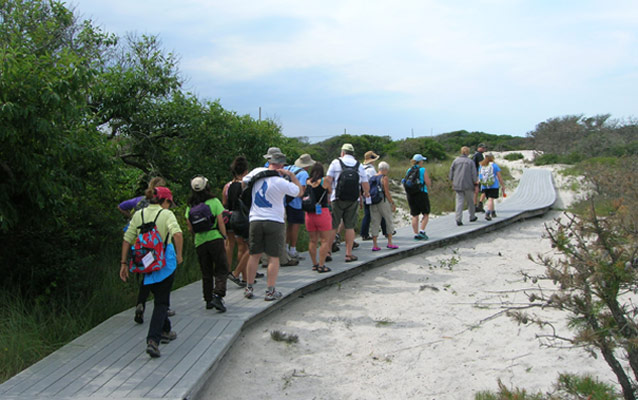 NPS Photo
Quick Facts
GETTING READY FOR 2016:

Action Item:

Take a Hike, Call Me in the Morning

Also Promotes:

In My Back Yard

State:

New York

Year Accomplished:

2013
For almost ten years, Fire Island National Seashore has been conducting its Fire Island Trek, which facilitates exploration of Fire Island's parklands and the seventeen communities within park boundaries. Initiated in 2004 as one of the park's 40th anniversary events, the Fire Island Trek was planned as a 3-day, 21-mile program, where participants walk from the Fire Island Wilderness to the Fire Island Lighthouse, with unique programs and special overnight lodging arrangements along the way. The Trek now includes shorter 1-day, 9-mile excursions, too.
For the past seven years, the Seashore has offered 3-mile roundtrip guided hikes through fields and forests of the historic 613-acre William Floyd Estate. These fall, winter and spring programs combine outdoor activity with a chance to learn about historic farming and land management practices from the 18th century to present, and an opportunity to observe wildlife in a preserve on Long Island surrounded by ever-growing development.
Ranger-guided hikes from the Fire Island Wilderness Visitor Center to Old Inlet and beyond have been on the park's agenda for many years. Taking advantage of a recent storm effect, the park has hosted several 3-mile roundtrip hikes to the breach at Old Inlet, which fosters healthy outdoor activity and also stimulates communication about challenging land management issues at the Seashore.
The Seashore's Moonlight Runs help make connections with an audience already sold on the benefit of exercise. The Watch Hill Salt Marsh canoe tours and Sunken Forest Nature Trail walks opportunties, too, for combining healthy outdoor recreation with immense place-based experiences.
"This place-based interplay of recreation, natural history and cultural history," said Chief of Interpretation Kathy Krause, "helps immerse visitors into all that makes Fire Island so special. We have continued to expand our offering of hikes and outdoor activities this year."
Healthy fringe benefits are the new icing on the cake!