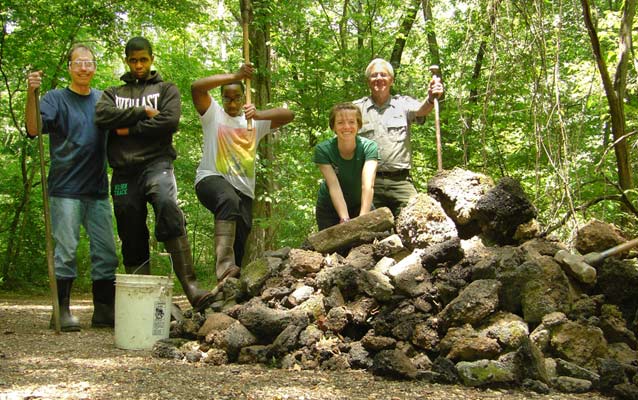 Courtesy of Rock Creek Conservancy
Quick Facts
GETTING READY FOR 2016:

Action Item:

Parks for People

State:

District of Columbia

Year Accomplished:

2012
"[Park Ranger] Bill Yeaman and and I lead a small but hard-working group removing asphalt and concrete chunks from the banks and stream bed near the terminus of the Pinehurst Tributary on Saturday, May 12th. Two Wilson high school football team students and their coach worked from about 10:00 to 1pm creating a pile of debris estimated at 4 ft high and 8-10 ft long. Park service maintenance will remove the debris from the park.
Bill Yeaman's seemingly endless natural history knowledge was witnessed and enjoyed by all as he explained the history, geology, flora and fauna of Rock Creek Park. Bill had us looking up into the trees trying to find birds he identified by their calls and into his hands as he held a millipede and later a quick moving Ringneck snake. Who knew this volunteer service would be a learning experience too. I know the students, who are unfamiliar with the park, were genuinely interested and came away with a gained appreciation thanks to 'Professor' Yeaman during our time in his 'classroom' under the canopy."
John Burwell, Rock Creek Conservancy Steam Team Leader - Pinehurst Tributary.