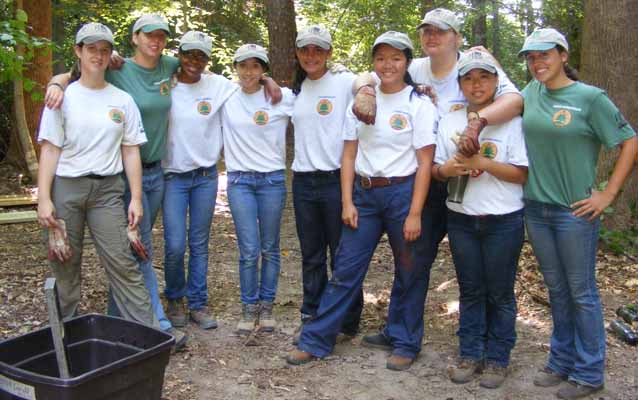 NPS
Quick Facts
GETTING READY FOR 2016:

Action Item:

Step by Step

Also Promotes:

Parks for People

Year Accomplished:

2012
In August, 2011, NPS staff spent a day with a Youth Conservation Corps team of young women, ages 14 to 17, stationed at Chippokes Plantation State Park.  NPS funding with partner Virginia Department of Conservation and Recreation supported two crews:  one of seven girls and two supervisors at Chippokes, and one of seven boys and two supervisors stationed at First Landing State Park, in Virginia Beach, VA.  During the three-week program, the crews completed 2210 hours of work, 780 hours of "interpretive events" and 800 hours of "adventure training".
The girls completed some maintenance tasks around the park, such as staining signs, but they spent most of the three weeks building a 20' bridge across a historic toll road.  The project started with clearing small trees and other brush from the work area, and gave the girls many new carpentry skills, including driving nails, sinking timber spikes, fastening lag bolts, and reading plans.
This pilot program led to expanded programs in summer 2012 on the James River along the Captain John Smith Chesapeake National Historic Trail.