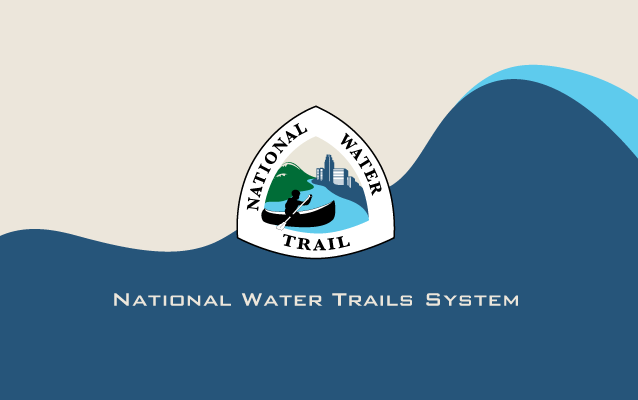 National Water Trails System
Quick Facts
GETTING READY FOR 2016:

Action Item:

Follow the Flow

Year Accomplished:

2012
Under Call to Action #12, Follow the Flow, the National Water Trails System has been established. The purpose of the National Water Trails System is to create a steadily growing network of quality national water trails designated to promote recreational and conservation values and to provide support to the water trail community. The National Water Trails System will uniquely connect Americans to the nation's waterways and strengthen the conservation, restoration, and stewardship of these waterways through broad-based community partnerships of federal, state, local, and/or nonprofit programs.
Under the authority of the Secretary of the Interior through the National Trails Act (see Secretary's Order No. 3319), this collaborative interagency effort is administered by NPS Rivers, Trails, and Conservation Assistance Program (RTCA) and National Trails System (NRT). Staff from RTCA and NTS have laid the initial foundation of this new program, with development and outreach support from the NPS Denver Service Center (DSC). To date, nine water trails have been officially designated as National Water Trails. These exemplary water trails are located across the country; managed by federal, state and nonprofits; offer diverse recreational opportunities; and promote the protection, restoration, and stewardship of waterways.
Designated National Water Trails:
Chattahoochee National Recreation Area Water Trail (Georgia)
Willamette River Water Trail (Oregon)
Mississippi National River and Recreation Area Water Trail (Minnesota)
Hudson River Greenway Water Trail (New York)
Bronx River Blueway (New York)
Kansas River (Kansas)
Mississippi River (St. Louis, Missouri)
Alabama River (Alabama)
Okefenokee River (Florida)
To learn more about the National Water Trails System and to see if a designated trail is near you, go to https://www.nps.gov/WaterTrails. The website offers program information, FAQs, contact information, individual web pages for each designated water trail, and a growing "toolbox" for managing water trails. The website also provides instructions for the application process and materials for proposing a water trail for designation in the National Water Trails System. Now we need your help to build a broad, inclusive, and exciting water trails network!