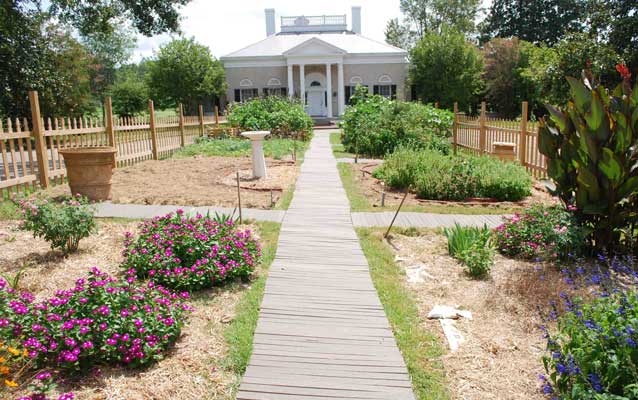 NPS Photo
Quick Facts
GETTING READY FOR 2016:

Action Item:

History Lesson

Also Promotes:

Next Generation Stewards

Year Accomplished:

2012
The Vicksburg National Military Park Heritage Demonstration Garden, developed and maintained in partnership with the Master Gardeners of Warren County, Mississippi, is a unique outdoor classroom experience.  Created as a part of First Lady Michelle Obama's Let's Move Outside initiative, the heritage garden offers educational groups the chance to enjoy being outdoors while strengthening students' relationship with their food sources.  The site is based on a typical Victorian kitchen garden, and exposes visitors to the life of average civilians during the Civil War, their hardships, and ingenuity.
The collaborative effort between VNMP staff and the Warren County Master Gardeners has proven to be an exceptional partnership.  The garden's design is divided into three sections developed by Master Gardener committees designated to oversee specific plantings, and are separated into vegetables and grains, herbs (both medicinal and culinary), and annual and perennial ornamental flowers.  Plot designs incorporate age-old gardening customs such as 'three sisters,' a Native American tradition combining corn, beans, and squash in the same mound, along with newer gardening methods such as 'lasagna gardening,' a method incorporating  heavily watered alternate layers of leaves, peat, straw, newspaper, grass clippings, etc.  This style creates a less-labor intensive plot resulting in suppressed weed growth, more water retention, and a reduced fertilizer requirement, leading to an increase in natural composting and reduction in pesticide use.  Additionally, many of the plants in the garden are classified as 'heirloom' or 'heritage' and were grown from seeds carefully collected by gardeners over many years.
Currently, most of the educational and interpretive programs at Vicksburg National Military Park focus on the military significance of the campaign and siege of Vicksburg.  However, the construction and interpretation of the heritage garden has sparked the interest of a new kind of audience. Women, children and minorities, not typically included in the military narrative of the park, find their stories highlighted within the garden.  Programs developed for educational workshops, school groups, and Junior Rangers encourage a deeper understanding of the civilian experience. The garden also acts as an outdoor classroom for the biological sciences, providing a hands-on learning opportunity dedicated to themes of soil and water management, heirloom plantings, 'green' gardening, and traditional pest control management practiced during the 19th century. 
This project was funded by a National Park Service Parks as Classrooms® grant, supporting activities and products that allow students and the public to become involved in resource-based learning.  Master Gardener programs exist across the country, and are comprised of volunteer educators trained by Land Grant Agriculture Universities to assist in providing information to the public about home gardening. The Warren County Master Gardener program is supported through the Extension Service of Mississippi State University.

For more information on the VNMP Heritage Garden go to: https://www.nps.gov/vick/historyculture/heritage-demonstration-garden.htm