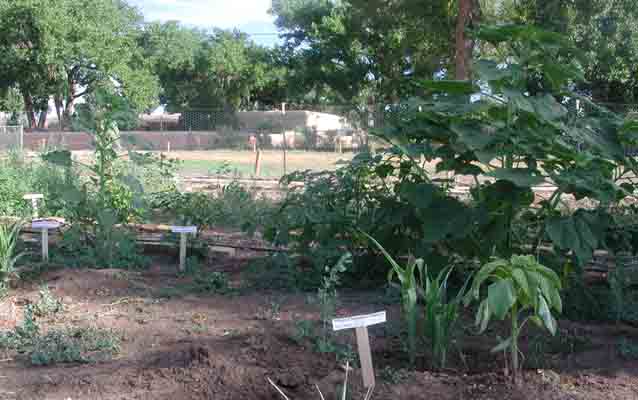 NPS Photo by Dana Hawkins
Quick Facts
GETTING READY FOR 2016:

Action Item:

History Lesson

State:

New Mexico

Year Accomplished:

2012
The Demonstration Garden at Aztec Ruins National Monument was inspired by archaeological, ethnobotanical, and ethnological research. It represents an interpretive example of subsistence and food production during the prehistoric 12th-13th century occupation of Aztec Ruins in the Four Corners region by ancestral Puebloans. The garden was implemented this spring through the hard work and dedication of Aztec High School and Koogler Middle School JROTC cadets under the direction of NPS employee Dana S. Hawkins, and has been quite successful in teaching the history and concepts of food production and local ecology in the past and the present. In addition, it has been a useful tool for Jr. Ranger camps and is always available to visitors who wish for a guided tour. Local teachers have been invited to bring classes to the garden for lessons in local history and ecology, histories of specific crops, gardening techniques, and prehistoric subsistence strategies.
The seeds chosen for the garden are heritage varieties; many are still grown in pueblos within the region, and very closely related to varieties found within the archaeological record. The continuity of certain crops and varieties is a valuable aspect of this outreach, many of the chosen varieties represent thousands of years of adaptations across time and space within specific cultures and regions. The active growing and preservation of these types of varieties encourages strength in biodiversity, while also growing crops that are accustomed to the high desert climate of the upper Sonoran. This concept is important as a teaching tool for the community and visitors to be introduced to sustainable growing techniques and an array of crop varieties that were used before the introduction of modern technologies into food production and in some cases, still used traditionally.
This project also provides an opportunity for continued learning for the project lead and other NPS employees through increased experience over time, interactions with community members, consultation with tribal members and continued academic research about local cultures, modes of subsistence and ecology.
As harvest time approaches, the ongoing evaluation and assessment process of successes and failures within the garden continues, and will be applied to increasing greater success the following year. This process is highly educational to all involved because it encourages awareness of the challenges the prehistoric inhabitants of Aztec Ruins National Monument encountered.