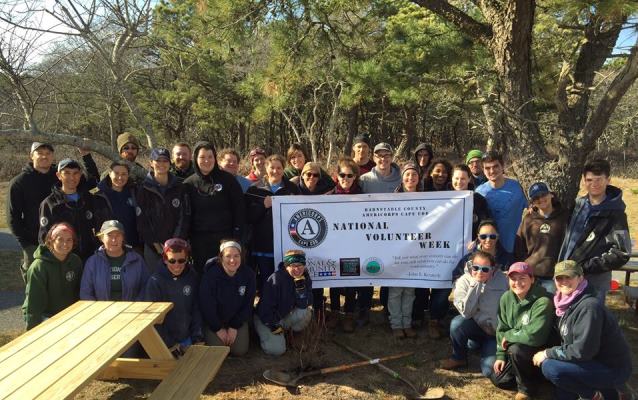 AmeriCorps Cape Cod
Quick Facts
GETTING READY FOR 2016:

Action Item:

Next Generation Stewards

Also Promotes:

Value Added

Year Accomplished:

2016
During the week of April 11th Barnstable County AmeriCorps Cape Cod and Cape Cod National Seashore (CCNS)teamed up for National Volunteer Week with the common goal to "protect, preserve, and prepare our park" for the National Park Service centennial year. The week was a smashing success with over 55 completed projects in 14 different locations, 1,085 hours by 31 members of AmeriCorps Cape Cod members, 67 community member volunteers contributing to over 300 hours of service, and over $45,000 of added value to the seashore in just five days.
From touching up fee booths, signs, and life guard chairs, to planting new flora and constructing new garden beds, to creating new picnic groves, and building outdoor education shade structures, the gang tried to hit every nook and cranny at park facilities and beaches to really make the park shine for the NPS 100th birthday.
Not only did volunteers from our own back yard join in on all the action, but volunteers stretched all the way to Worcester.Nauset Regional High School Key Club offered their time after school to do a clean-up of Coast Guard Beach;Cape Cod Regional Technical High School students worked closely with the Seashore FireCorps to "cut, pile, burn" at the Highlands Center;and local carpenters lead volunteers on numerous construction and park maintenance projects.
Everyone, from near and far and old to young, worked fluidly together throughout the week keeping one overarching goal in mind –to help make the park we love a better place for all.
National Volunteer Week would not have been possible without funding from Mass Service Alliance and a matching fund provided by Barnstable County. These two funds contributed $9,000 towards the purchase of supplies, materials, volunteer t-shirts, food, and a documentary produced by Lower Cape Community Access TV.
A special thanks goes out to National Seashore staff members: Lauren McKean, Park Planner;Charles Aznive, Facilities and Maintenance;John DeFoe, Roads and Trails Supervisor and his crew;Brittany Quaglieri, AmeriCorps Program Specialist;Sydney Fitch, AmeriCorps member;and Courtney Butler SCA Volunteer Ambassador for creating and leading a successful week. A huge thanks to all community volunteers, AmeriCorps staff and members, and Cape Cod National Seashore staff who donated their time and contributed to the dozens of accomplishments that made our park a better place.