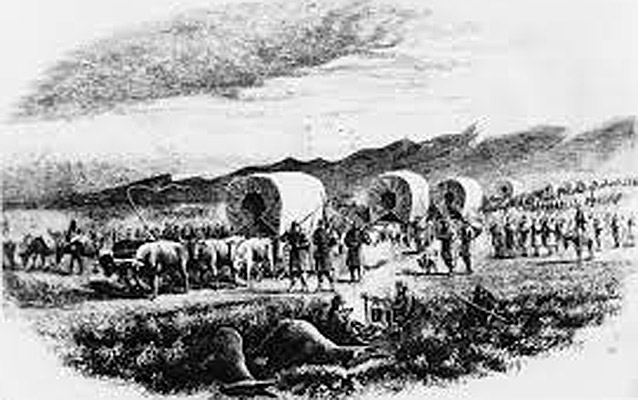 Public Domain
Quick Facts
GETTING READY FOR 2016:

Action Item:

History Lesson

Also Promotes:

Out With the Old

Year Accomplished:

2012
Unlike the Oregon Trail, the California Trail, and other so-called "emigrant trails," the Santa Fe Trail has long been known as a commercial thoroughfare.When it opened in 1821-22, teamsters began hauling a dizzying variety of goods –and passengers as well –eastward from Santa Fe (capital of New Mexico province in the newly-independent nation of Mexico) and westward from Franklin (a Missouri River town in the new state of Missouri).That two-way trade characterized the Santa Fe Trail throughout its 59-year history.Repeated generations of historians repeated these shibboleths –both before 1987 (when the trail was designated a National Historic Trail) and in the years since that time.
In 2012, however, respected Colorado historian Michael Olsen approached National Trails Intermountain Region (NTIR) with the near-heretical notion that for two short, tempestuous periods, the Santa Fe Trail behaved much like its "emigrant trail" counterparts.Slightly more than a year later, Olsen completed That Broad and Beckoning Highway: The Santa Fe Trail and the Rush for Gold in California and Colorado.In his well-written, meticulously-footnoted volume, Olsen noted that during both the 1849-1851 period (of the California gold rush) and the 1859-60 period (of the Pikes Peak gold rush in Colorado), gold-seekers used the Santa Fe Trail –in combination with other routes –to reach the end of the trail and to start mining.
While the Santa Fe Trail was not the principal way in which westbound travelers reached either of these gold districts, Olsen's research emphasized a brief period that no previous historian had described to any significant degree. As a result, many previously-unknown opportunities now exist along the Santa Fe Trail (and along other trails as well) to interpret the gold rush aspect of historical trails to the traveling public.