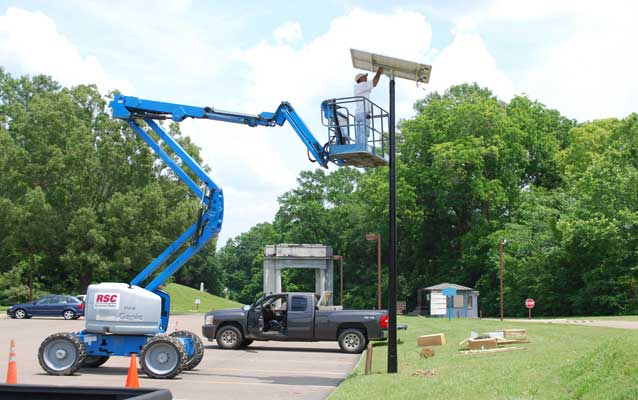 NPS Photo
Quick Facts
GETTING READY FOR 2016:

Action Item:

Go Green

State:

Mississippi

Year Accomplished:

2012
As part of the nationwide effort detailed in the recent launch of the National Park Service 'Green Parks Plan,' Vicksburg National Military Park is making a concerted effort to reduce its carbon footprint. The park replaced the outdated lighting fixtures in the parking lots at the main Visitor Center and the USS Cairo Museum with new solar-powered lights that will ultimately reduce overall energy consumption and lower the park's impact on the environment.

One of VNMP's main goals is providing the most positive visitor experience possible, which includes enhanced visitor services and safety. Recommended as a Best Management Practice in a 2011 energy audit, the new solar lighting fixtures will significantly lower the park's energy consumption and maintenance levels, while also providing improved visitor and staff security. Additionally, the lighting project will provide the opportunity for interpretive staff to educate the public on the benefits of renewable energy, enhancing both visitor services and the positive perception of VNMP as an eco-friendly park.

Funding for the lighting project was awarded through the NPS Recreational Fee Demonstration program, specifically using monies collected at VNMP through user-generated fees, and allowing the park to replace the existing 20+-year-old lighting fixtures with nine solar-powered pole units and six walkway lights. The project is expected to create immediate energy savings through reduction of utility costs while providing the environmentally conscious-minded visitors with an enhanced experience and promote solar power as an alternative energy source in keeping with the ideals of the NPS 'Green Parks Plan.'

For more information, please contact the park at 601-619-2909.