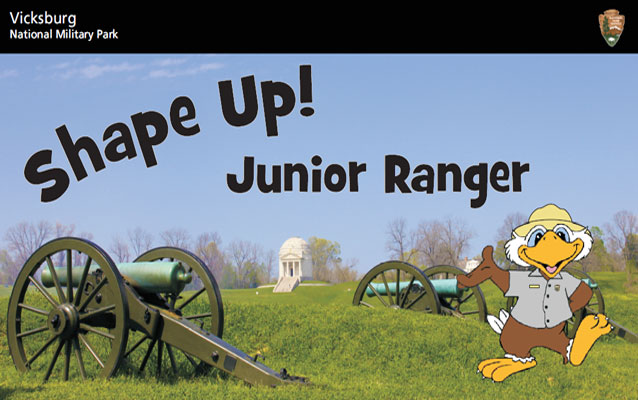 NPS
Quick Facts
GETTING READY FOR 2016:

Action Item:

Take a Hike, Call Me in the Morning

Also Promotes:

Live and Learn

State:

Mississippi

Year Accomplished:

2012
As part of First Lady Michelle Obama's "Let Move Outside!" initiative, the "Shape Up, Junior Ranger!" program is a fun way for children and their families to get fit, explore and learn about their National Park and community. Participants in the program are inducted into the Shape Up, Junior Ranger Army at the rank of "private". Each "recruit" receives their very own "Shape Up, Junior Ranger!" logbook, a "fit kit" with pedometer, water bottle and backpack. The program is designed to encourage ongoing fitness and learning activities.  Throughout the year participants can earn additional logbook stamps and ascend through the ranks (corporal, sergeant, captain, etc.)  by completing various physical activities, participating in special events, and conducting missions based on their park knowledge.

Starting a fitness program is a lifestyle change that is best supported when the whole family is involved. To encourage families to get out and get healthy together, each Junior Ranger enrolled in this program may present their "Shape Up, Junior Ranger!" logbook at the park entrance station to waive the fee for themselves and their chaperone.

The "Shape Up, Junior Ranger!" is a community partnership between the National Park Service and Shape Up Vicksburg. Shape Up Vicksburg is an established non-profit organization devoted to encouraging fitness and a healthy lifestyle for area residents and, thereby, working to reverse Mississippi's reputation as the most obese state in the union. The partnership also has been successful in helping the park reach residents who traditionally have not participated in park programming.

The project is made possible by a grant from the National Park Foundation through the generous support of ARAMARK through the Yawkey Foundation, the Fernandez Pave the Way Foundation and the History Channel. Local businesses and service clubs have also supported the program through donations and volunteerism.

More information about Shape Up, Junior Rangers can be found at https://www.nps.gov/vick/forkids/shapeup.htm or by contacting the park at 601-636-8715.