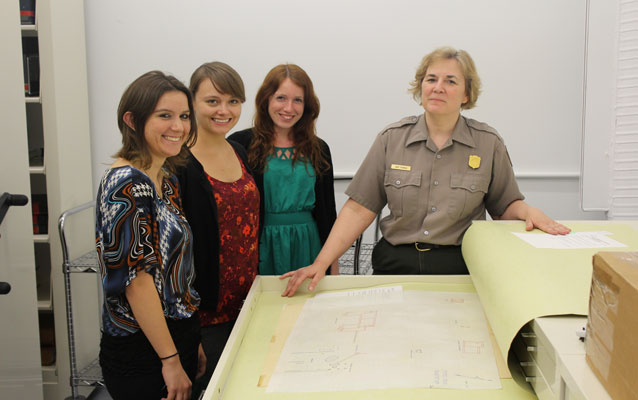 NPS
Quick Facts
GETTING READY FOR 2016:

Action Item:

Scholarly Pursuits

Also Promotes:

Step by Step

Year Accomplished:

2013
In mid-May, three graduate students from the University of South Florida (Alena Pirok, Meredith Kambic and Mechelle Morgan) arrived at the park to re-analyize  earlier arcaheological excavations of the building believed to be George Washington's Birthplace. Studying under Dr. Philip Levy, an associate professor of history and anthropology at the university and a renown historian of Washington family history and archaeology, their work at the park will be invaluable.
While here they are re-examining the documents and the artifacts recovered during previous archaeological investigations done on the birthplace of our "Founding Father," starting with the 1930s excavation and continuing through to the 1970s and late 1990s digs too. Their goal is to take a fresh look at old findings and make sure what is being interpreted by park staff is up-to-date and the most accurate information we can glean from what was uncovered during those times. This study also provides a chance to learn new information about the Washington family here; prior to, through, and after the lifetime of George Washington.
Finding out new information will help with the park's interpretive programs and a project to incorporate their work into a digital exhibit is also underway.
"Our goal is to make sure we know everything we can about the birthplace of George Washington" said Amy Muraca, museum curator for the park and the driving force behind getting the project funded. "We want to make sure that what we know and interpret is as accurate as it can be."
Their work will continue through mid-July.