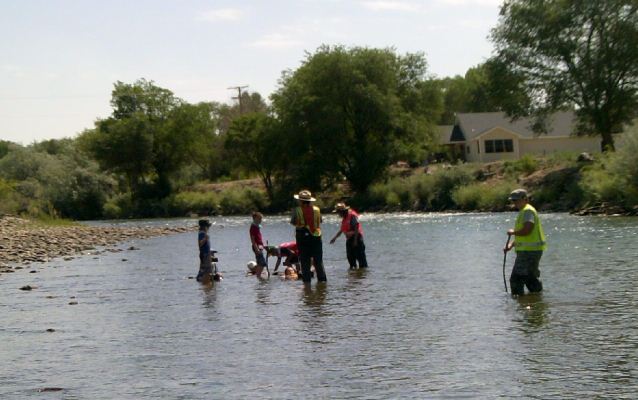 NPS Photo
Quick Facts
GETTING READY FOR 2016:

Action Item:

In My Back Yard

Year Accomplished:

2013
In order to improve the local community's access to Aztec Ruins National Monument, the Park has joined with the City of Aztec to develop a new pedestrian and bicycle trail from the historic downtown to the park. This directly relates to the first theme of the Call to Action, Connecting People to Parks by meeting action item "In My Back Yard."
The new trail will give visitors to the monument an appealing alternative to driving. It will run from historic downtown Aztec, across a new bridge over the Animas River, and to the park visitor center and archeological site. The route follows a section of the Old Spanish National Historic Trail, the 1,000-mile course that pack mule trains followed from Santa Fe west to Los Angeles in the 19th century.
The trail will connect people to parks in a number of ways. It will provide local students an easy walk from their classrooms to Aztec Ruins for field trips.Guests staying, shopping, or dining in Aztec will be able to visit the park without having to drive. Residents of Aztec will finally have a convenient way to visit a UNESCO World Heritage Site in their own back yard.
The trail will also open up a new resource that has not been available to park visitors in the past and expands the resources available for interpretation. The park plans to install waysides along the trail to interpret various aspects of these resources including the riparian ecosystem of the Animas River, the Old Spanish Trail, and the park's new Heritage Garden located adjacent to the trail route.
In 2012, the pedestrian trail project was named one of President Obama's America's Great Outdoors sites, and in 2013 the project was one of only 29 projects nationwide to receive a grant from the Department of Transportation to improve access to America's national parks, forests, and wildlife refuges.
Construction on the new trail and bridge is expected to start in the summer of 2013.