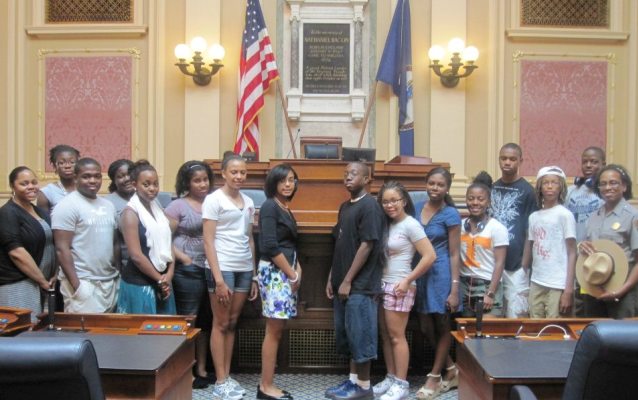 NPS Photo
Quick Facts
GETTING READY FOR 2016:

Action Item:

Live and Learn

State:

Virginia

Year Accomplished:

2012
In July 2012, the Maggie L. Walker National Historic Site held its Third Annual Youth Summer Leadership Institute.  Fourteen Richmond-area high school students were selected to participate in the two-week Institute. Through discussions, lectures, and field trips, the students examined traits of effective leadership.  They discussed how to become leaders in their own community, and in the process earned community service hours as NPS volunteers. 
Maggie Lena Walker was born in Richmond, Virginia on July 15, 1864, during the final year of the American Civil War, and became a strong leader in her community.  As a member of countless national organizations during the Jim Crow era, including the NAACP, Walker became a national activist for economic independence, educational opportunities, and civil rights, particularly for women and children in the African American community. 
Walker's devotion to youth is the inspiration for the Youth Summer Leadership Institute, which endeavors to continue her work to inspire children in community leadership. The annual two-week Institute recruits 14 minority students age 14-18 from surrounding communities--especially Jackson Ward, the historically black neighborhood in which Walker lived and worked. The service learning curriculum, designed in collaboration with and taught by educators from the nearby elite Maggie Walker Governor's School, includes traditional classroom instruction, discussion with community leaders, in-depth exploration of the historic site and neighborhood, field trips, and a research/presentation project.
"My learning experience was great," said 2012 Institute Graduate Rakeem Morris. "I learned to communicate with my peers and others.  I also learned that it's okay to stick out from the crowd. I knew before I started that Maggie L. Walker was a famous banker, but I didn't know that she was an inspiration to the Jackson Ward community.  A lot of people looked up to her, including me."
Speaking to the graduates, park superintendent David Ruth noted, "If Mrs. Walker were here today, I know she would be gratified to see her incredible legacy memorialized in the home where she lived, but she would be moved to know that her desire to create leaders among children and young people continues through the Maggie L. Walker Leadership Institute."