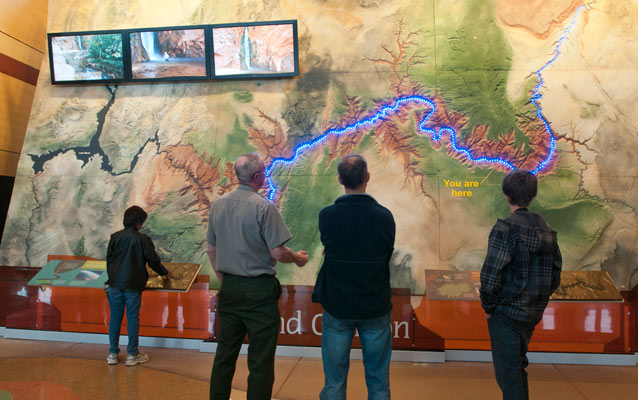 NPS photo by Kristen M. Caldon
Quick Facts
GETTING READY FOR 2016:

Action Item:

Out With the Old

State:

Arizona

Year Accomplished:

2012
New exhibits were installed at the Grand Canyon Visitor Center in the spring of 2012. Funded through the Federal Lands Recreation Ehancment Act, the  exhibits include a 15 x 30 foot relief  model map of the entire Grand Canyon and one of the historic boats from the park's museum collection. Edquist-Davis Exhibits of Seattle, WA, was the contractor for the exhibit design and ColorAd of Manassas, VA, was the fabricator.
These new exhibits introduce park visitors to the park's main interpretive themes through the use of exhibit panels, models, and interactive components. One of the highlights of the exhibit is a seven-minute program that tells the two-billion year history of he parks geology and human history using a Science on Sphere (SOS). The SOS was designed by the National Oceanographic and Atmospheric Administration and uses a 6-foot diameter spheres suspended above the ground to wrap 360 degree images around the sphere.
Basic visitor orientation and trip planning information is provided through outdoor exhibits that are available to visitors 24 hours per day/seven days per week.