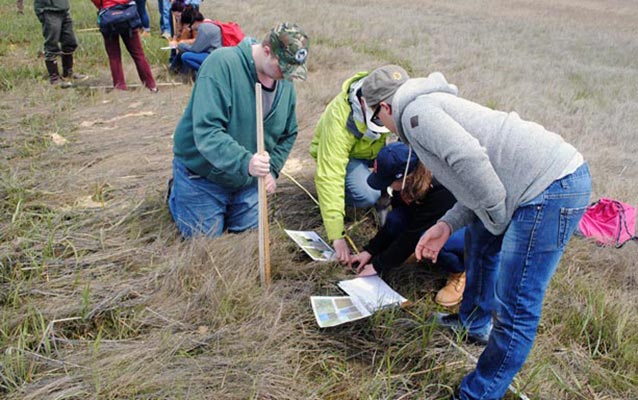 NPS Photo
Quick Facts
GETTING READY FOR 2016:

Action Item:

Live and Learn

Also Promotes:

Next Generation Stewards

Year Accomplished:

2016
May 17-19, 2016. A three day youth climate change program at Cape Cod National Seashore ended with 97 students energized and inspired to return to their homes, schools, and communities to take action to reduce their carbon footprints and educate others to do the same.
For the first two days, twenty-five high school students from the Minuteman Regional Technical School met with scientists-researchers to learn about coastal vulnerability and resilience, salt marshes as carbon sinks or sources, and greenhouse gasses.Students used tools, took measurements, and evaluated the risk of Cape Cod's Atlantic Ocean-facing beaches and salt marshes to accelerated sea level rise and increased storm frequency and intensity.Students stayed overnight in the park's education facility in the former Nauset Coast Guard Building, Coast Guard Beach,Eastham.During the evenings they were fully engaged in climate change discussionsand preparing for day three of the program- a full day of serving as climate change teachers to seventy-two 4th graders from Falmouth, Cape Cod.
The air at Coast Guard Beach on day three was full of salt and energy from the 97 students, classroom teachers, park education rangers, and staff from the No Barriers Youth organization that partnered with the National park Service to carry out the program.Fourth graders rotated through six different engaging activities led by the high school students.After the program, Alexis Trusel, fourth grade teacher said, " are thrilled about having been able to have this experience for our students.We learned so much today, and our students made many connections to what we have been learning about in class.The high schoolers did a fantastic job, and I know this was a great experience for them as well."
Cape Cod National Seashore and both schools were selected to participate in the program through a competitive grant sponsored by the National Park Service's Climate Change Response Program, Natural Resource Stewardship and Science Directorate of the National Park Service.