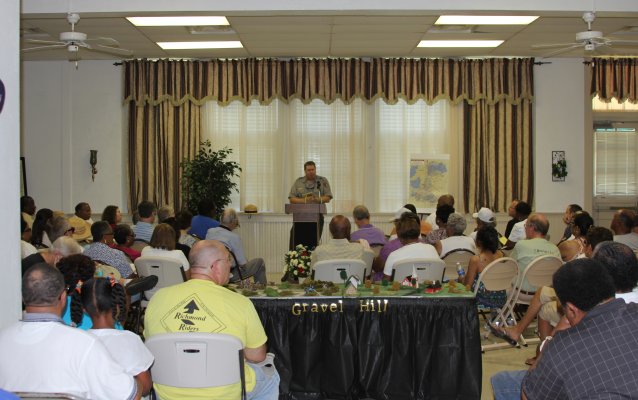 NPS Photo
Quick Facts
GETTING READY FOR 2016:

Action Item:

History Lesson

Year Accomplished:

2012
In the late 1700s, John Pleasants, a Quaker farmer near Richmond, Virginia, decreed in his will that all of his slaves should be freed upon his death.  More than 200 years later, Richmond National Battlefield Park worked with descendants of those slaves - many of whom still live on the land that was once owned by Pleasants - to share their story with visitors as part of the park's 150th events in the summer of 2012.  
The community - called Gravel Hill since the early 1800s - lies in the core of the Glendale Civil War battlefield, where Union and Confederate armies fought in 1862 over the future of the nation, and the fate of more than 4 million enslaved Americans.  On June 30, 2012 - the 150th anniversary of the Battle of Glendale - the park and members of the Gravel Hill community shared with visitors the story of the free African American farm families caught in the maelstrom of the battle, a story that until now had been almost unknown in the Richmond community.  The program was delivered to more than 100 audience members in a tightly-packed room in the historic Gravel Hill School.  The event also featured special exhibits and displays about the history of the community and legacy of the Civil Rights movement represented by the building itself, which had been one of Virginia's segregated schools and now serves as Gravel Hill Community Center.
In addition to drawing the attention of local media, which brought the story to an even wider audience, the program drew a large and incredibly diverse audience, many of whom explored other programs around the battlefield during the commemoration.  Equally important, the partnership continues as the park and Gravel Hill are planning future programs in 2013 and beyond.