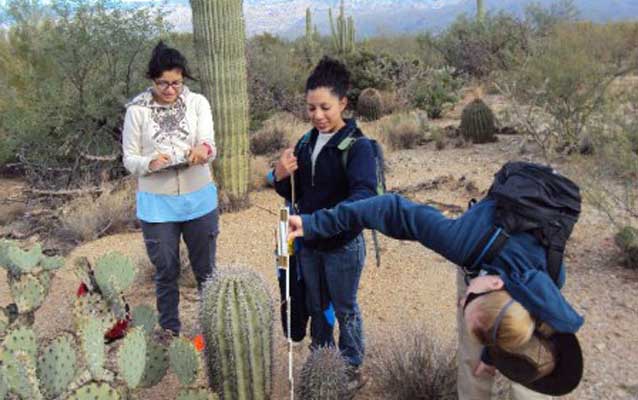 Photo by Irene Weber
Quick Facts
GETTING READY FOR 2016:

Action Item:

Step by Step

Also Promotes:

Next Generation Stewards

Year Accomplished:

2012
Saguaro National Park hosted a large youth crew this past year as part of its on-going Youth Internship/Youth Partnership Program.  Now in its third year, the program aims to hire local high school and college students for a career pathway in the NPS.  The students do field work in natural resource monitoring in the park's wilderness, including back-packing trips to the forested high country, while receiving mentoring and extensive training in wilderness first aid, safety, and other skills.  The 9-person crew reflects the very diverse cultural of Tucson, and student interns range in age from high school to graduate school. 
Highlights of the 2011-2012 season included the very successful BioBlitz held at Saguaro in October 2011.  In addition to working all aspects of the BioBlitz (one student was "youth talent" in the widely-broadcast Electronic Field Trip), the crew completed a number of initiatives developed as part of this huge event.  Students hiked throughout the park during both summers and on weekends during the school year.  They completed an ambitious wildlife survey of the park using trail cameras, capturing over 5,000 wildlife photos of 26 native species of medium and large mammals, including mountain lions, black bears, coatis, collared peccaries, badgers, bobcats, and many others. 
The crew also connected to Saguaro National Park's historic science roots by repeating a survey of saguaros first conducted in 1941.  Working with high school students and older volunteers, they measured and mapped nearly 10,000 saguaros in a one-mile square section of the park.  Comparision with the previous data set indicate that saguaros in the park's "Cactus Forest" area are rebounding after decades of decline.