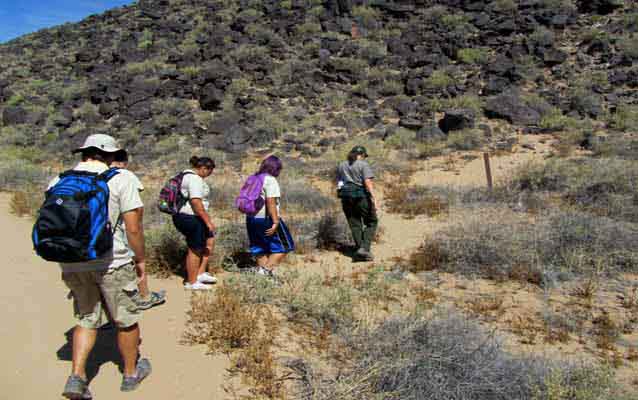 NPS-PETR
Quick Facts
GETTING READY FOR 2016:

Action Item:

Take a Hike, Call Me in the Morning

Also Promotes:

Step by Step

Year Accomplished:

2012
Dozens of local teens participated in an eight- week long hiking program "Albuquerque Outdoors Now."  Most had never had the opportunity to hike the varied trails, mesa, mountains and river pathways in their own backyard.  With funding from the Youth Partnership Program and Youth In Parks staff from Petroglyph National Monument, three Adventure Leaders were hired by the City of Albuquerque Park and Recreation Department to teach hiking safety, learn climbing and caving techniques, and interpersonal team building skills to low-income mid and high school age students.
A before and after video was taken to monitor the success of the program.  It was the hottest summer on record and hiking the cliffs at Petroglyph National Monument put their stamina to a test.  The last hike up to the top of the 10,678' high Sandia Peak actually took twice as long but the sense of accomplishment of reaching the peak was described by one slightly overweight 15 year old as "being the worst part of the program and the best part."  As a reward for completing the varied hikes the youth were invited to travel by bus to Bandelier, where they were given a private tour of the ruins and the cavettes. For all, it was their first trip to Bandelier.
The City so loved the program that they are seeking funds to broaden it to other community centers and schools in Albuquerque as part of a "Healthier U" initiative.