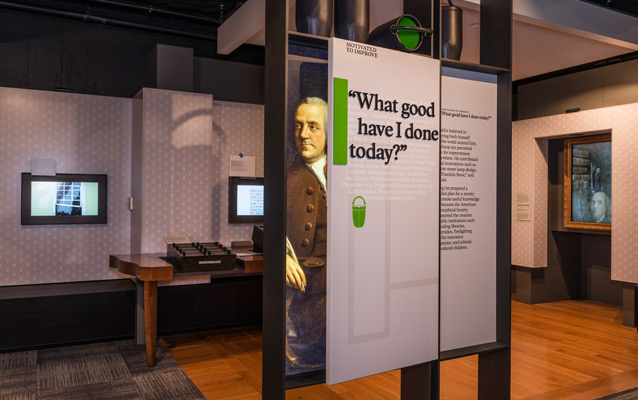 (Independence National Historical Park)
Quick Facts
GETTING READY FOR 2016:

Action Item:

Parks for People

Also Promotes:

History Lesson

Year Accomplished:

2013
Independence National Historical Park will reopen the Benjamin Franklin Museum beginning with Museum Preview Days on August 24.  Visitors can preview the museum until the Grand Opening on September 19 organized by the Friends of Independence National Historical Park.


Located in the internationally acclaimed Franklin Court, the museum is dedicated to the life, times and legacy of Benjamin Franklin.  Visitors of all ages will be able to immerse themselves in the 18th century life of the passionate, industrious and rebellious Benjamin Franklin.
"We intentionally created this museum to generate discussion, to make visitors think about how Franklin embodied the best of the spirit of the 18th century and how his character and ideas are still relevant today," said Cynthia MacLeod, Superintendent of Independence National Historical Park. "This is a museum that people will want to come back to again and again, a new gem under the much-treasured and award-winning Franklin Court, designed for 1976 by Venturi, Rauch, and Scott Brown."
Funding for this museum was made possible through a public-private partnership of the National Park Service with the Pew Charitable Trusts, H.F. Gerry Lenfest, The William Penn Foundation, The John S. and James L. Knight Foundation, the Commonwealth of Pennsylvania, the City of Philadelphia, the Independence Visitor Center Corporation and Eastern National.
Benjamin Franklin was revolutionary in his thinking and actions.  Each exhibit room in the museum reflects Franklin's distinct character traits. While the 20,000 square foot museum can be toured in any order, visitors can discover the following rooms:
Ardent & Dutiful: "Man is a sociable being."
Ambitious & Rebellious: "Be frugal and industrious, and you will be free."
Motivated to Improve: "What good have I done today?"
Curious & Full of Wonder: "A thirst for knowledge."
Strategic & Persuasive: "Life is a kind of chess."
Franklin's Library & Legacy
Each room will feature specific artifacts belonging to Franklin or relating to his life in the 18th century.  For example, in the "Ardent & Dutiful" room visitors can see several of Franklin's personal belongings including the Franklin Family Bible, armchairs and a chess set originally owned by Franklin.  Displays in other rooms include printing and publishing artifacts like The Pennsylvania Gazette and the Bill of Lading, or Franklin's inventions like the double-acting pneumatic air pump. 
Touch screen and hands-on interactives throughout the museum will allow visitors to view portraits of Franklin's family and friends, explore the working of Franklin's printing office and learn about Franklin's many community improvements – and see how good they are at applying those ideas themselves!  Children will enjoy using a computer-animated game that allows visitors to play Franklin's musical invention, the glass armonica.  Visitors of all ages can put their knowledge to the test in a large multi-player, touch screen computer game called "Join or Die" which allows visitors to select a puzzle piece from the famous cartoon, answer a question and then fit the piece back into place as the image comes alive.
Children accompanied by parents or teachers can look for Franklin's pet squirrel, "Skuggs," through a family guide offered by the museum.   While learning about Franklin and 18th century society, Skuggs figurines scattered across the museum will ask questions and engage children with activities and games.  Follow @SkuggsFranklin on Twitter to learn more about the museum, exhibits and activities that will be held there. 
Audio-visual design/build contracts for interactive computer elements, videos and animation were awarded to Memory Collective (Plymouth, MA) and Blue Cadet (Philadelphia).  Exhibits were fabricated by Kubik Maltbie (New Jersey).  The construction contract was awarded to the Daniel J. Keating Company (Pennsylvania).  National Park Service staff worked with QuinnEvans (architects) and CassonMann (exhibit designers) along with a wide array of special consultants for HVAC, electrical, IT, security, sound, and lighting design.  Remer and Talbott (Pennsylvania), guest curators, provided research and writing for exhibit content and were closely involved in the development of all videos and computer interactives.  Dan Bosin Associates and the Independence Visitor Center Corporation helped manage exhibit contracts and coordinated with National Park Service project managers.
The museum store managed by Eastern National will have books and other merchandise related to Franklin and colonial Philadelphia.  The museum will have a $5 fee ($2 for children under 16 and waived for school groups).  More information about visiting the museum can be found at www.nps.gov/inde.