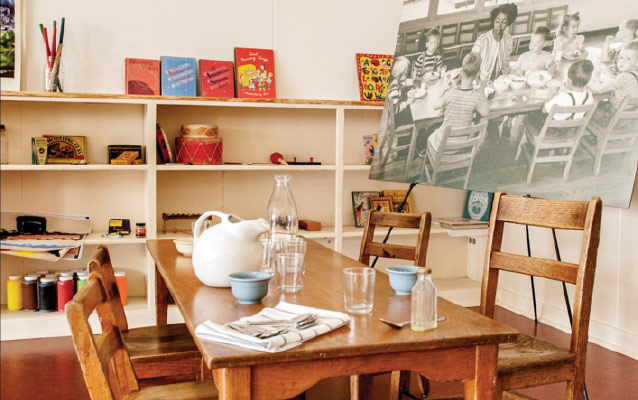 Photo: Eric Chiu, Hamilton + Aitken Architects
Quick Facts
GETTING READY FOR 2016:

Action Item:

Stop Talking and Listen

Year Accomplished:

2012
The Maritime Child Development Center was built in Richmond, CA, in 1943 as a federally funded childcare center to serve the families of workers in the Kaiser Shipyards.  After recently undergoing a complete restoration, the building is part of the Rosie the Riveter/WWII Home Front National Historical Park, and has now returned to its original purpose of an educational building, containing the kindergarten and first grade classrooms of a public charter elementary school.  It also serves as a community meeting center and houses the offices of the Richmond Community Foundation, and an NPS exhibit recreating a WWII-era preschool classroom.
Park interpreters decided to "stop talking and listen" by co-hosting an outreach event, along with the Richmond Community Foundation, at the Maritime Center in January 2012.  The goal of the evening was to develop programs that would foster an ongoing feeling of stewardship among diverse visitors.  After a brief tour of the NPS exhibit, the group engaged in a dialogue, and also brainstormed ideas for future programs in breakout groups.  This event took a visitor-centered approach to creating programming, and was well attended by organizational partners, Maritime alumni, neighbors, and community members. 
The breakout groups came up with a number of new programs that would serve the dual purpose of connecting NPS with new partners, and also to carry on the legacy of the comprehensive art, health and nutritional programs in which children participated at the child development center.  One group was very interested to reproduce a WWII-type victory garden in the building's schoolyard that would be accessible to nearby schools as well as the greater community. 
The second breakout group carried on the food theme in their proposal to offer cooking, canning, and nutrition education classes using heirloom crops from the future garden.  The third group was interested for the park to host an "Antiques Roadshow," where community members could bring in their wartime photographs and ephemera to be scanned and discussed with park museum staff.    
Park staff will consider all program proposals for feasibility and will develop at least one program based on these brainstorming sessions in the upcoming months.  The meeting group will continue to meet quarterly to continue the support of this initiative. 
By listening and responding to the community's needs and desires for programming, the park staff expects to draw a diverse group of visitors who will have multiple opportunities for ongoing engagement with the site.