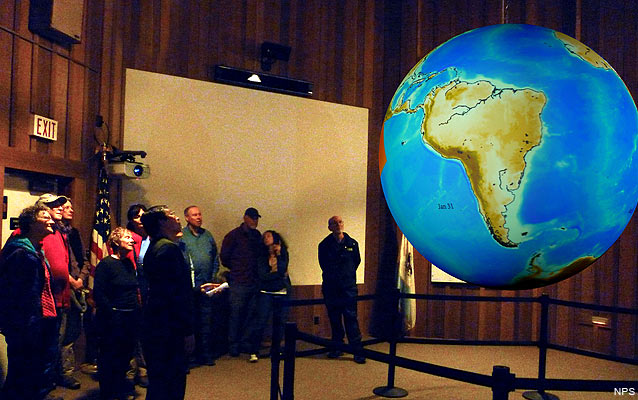 NPS
Quick Facts
GETTING READY FOR 2016:

Action Item:

Out With the Old

State:

California

Year Accomplished:

2012
Science On a Sphere® (SOS) is a room-sized, global display system that uses computers and video projectors to display planetary data onto a six foot diameter sphere, analogous to a giant animated globe. Working in cooperation with National Oceanic and Atmospheric Administration, Point Reyes National Seashore was the first National Park Service site to install an SOS exhibit. Animated images such as the forces that shape the planet, earthquake, wildlife migrations, atmospheric storms, climate change, and ocean temperature can be shown on the sphere, all downloaded from real-time data sets. This summer, a George Wright Society intern will develop a climate change program. Park staff is now using iPads at the Point Reyes Lighthouse--which has a stairway equivalent to a 30-story building--for those with mobility impairments to view videos of the Lighthouse from the top.
A new 3-D tactile map, providing accessibility for the visually impaired, is being fabricated and will be installed this summer at the Bear Valley Visitor Center. The map of the Seashore also includes a series of LED lights and will even have a bronze-coated tactile map showing the relief of the two adjacent National Marine Sanctuaries (Cordell Bank and Gulf of the Farallones).
Knowing the digital age is the communication preference for the next generation, Seashore staff has been working with a company (Green Mountain Digital) on a comprehensive app for Point Reyes resources and recreational opportunities that could be a model for other NPS units. Staff is also working with the company OnCell Audio to deliver not only cell phone tours but the ability to download the audio portion along with images and maps via smart phone devices. By using QR codes for after hours visitors to download maps, the park is saving over 800 pounds of paper per year.
Tapping into another technology developed by our colleagues to the south, Point Reyes National Seashore collaborated with Channel Islands National Park on World Oceans Day (June 2012) to connect Point Reyes visitors with the Channel Islands celebrated "Live Dive" program. A great hit!